Hermes Creative Awards recognizes Bospar PR with prestigious Platinum Award
SAN FRANCISCO—April 23, 2021—Bospar, the boutique PR firm that puts tech companies on the map, today announced that the Hermes Creative Awards has honored the agency with a prestigious Platinum Award for the communications work done for client Prodoscore, a leader in productivity intelligence and employee visibility software.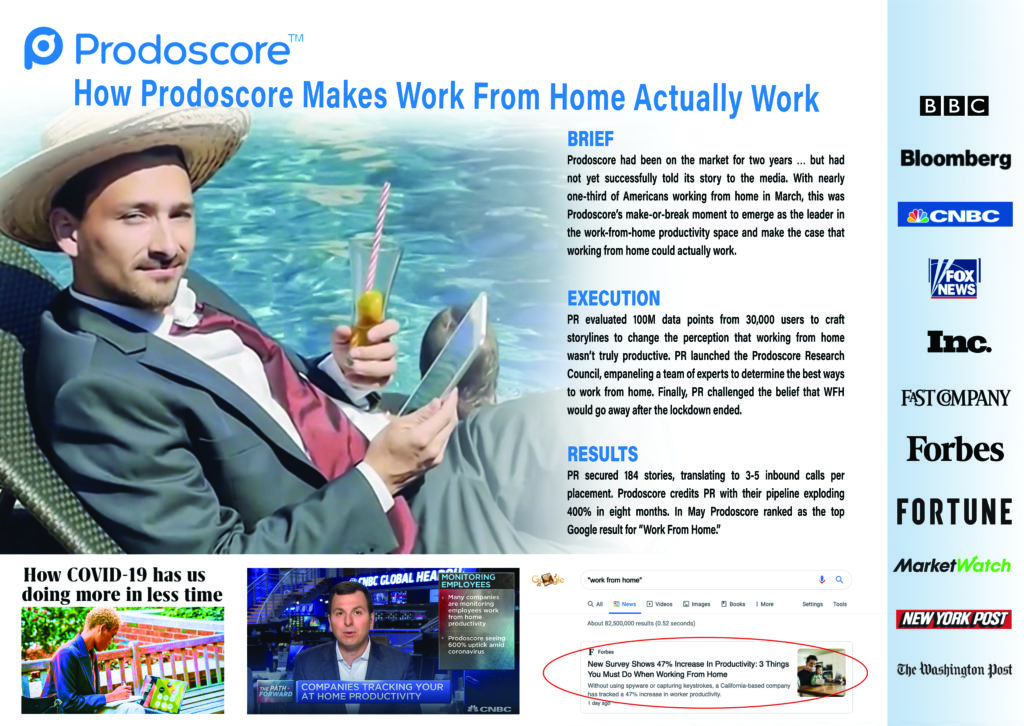 In addition, Bospar also received a Gold Award in the same category, Public Relations/Communications Media Relations and Publicity Campaign, for its work with SingleStore, a database platform. Hermes Creative Awards honor companies that produce "the creative industry's best publications, branding collateral, websites, and videos," as well as the top "advertising, marketing and communication programs."
Bospar's Prodoscore campaign has received multiple industry awards. Titled "How Prodoscore Makes Working From Home Actually Work," the campaign was named "Best in Corporate Branding" by PRWeek earlier this year. In February, PRovoke awarded it the "Best New Product/Brand Launch." More recently, the Prodoscore effort was named a finalist for a Silver Anvil Award.
"Day in and day out, our staff members produce this level of work," said Curtis Sparrer, Bospar principal and cofounder. "They creatively solve problems and help our clients receive the attention they deserve. Frankly, Bospar helps free them from ineffective PR strategies. I couldn't be prouder of their work on Prodoscore."
In spring 2020, with nearly a third of the U.S. workforce working from home, Bospar understood there was a unique opportunity for Prodoscore. Bospar positioned Prodoscore as a work-from-home coach that provided both management and staff the support they needed to acclimate to the new remote environment.
Bospar's strategic communications plan for Prodoscore went into high gear with an exclusive report on CNBC, generating 30 inbound leads within the first hour of the broadcast, as well as coverage on the BBC, Forbes, HR.com, and 18 other outlets. Web traffic shot up 90%. For a live webinar summarizing the findings from the Prodoscore Research Council, Bospar live-tweeted the presentation, using high-value hashtags like #WFH. Social activity shot up with 16,000 shares. To date, Bospar has secured more than 100 media placements, including a coveted feature story in Forbes. Prodoscore credits Bospar with their pipeline exploding 400% in eight months.
To be sure, the tech sector has felt Bospar's presence more than ever the past year. Earlier this month, Bospar announced that it was a finalist in five different categories for the 2021 North American SABRE Awards. Previously, the agency was named a PRovoke SABRE four-award recipient and received the title of Best in Corporate Branding for client Prodoscore during the PRWeek 2021 Awards. In 2020 Bospar was selected to Forbes' list of America's Best PR Agencies 2020 and PRNews inaugural Agency Elite Top 100; earned four MarCom Awards, including three platinum; was named a PR World Award Grand winner; and was honored with PRovoke's 2020 North America Boutique Agency of the Year Award, a Gold 2020 MUSE Creative Award, and two Innovation SABRE awards. In its most recent ranking, the San Francisco Business Times named Bospar as the eighth largest Bay Area LGBT-owned business.
About Bospar
Bospar is a boutique tech PR firm featuring a team of highly seasoned professionals who exist to put tech companies on the map. Bospar's principals include a long-time PR and tech industry guru, a former broadcast TV producer and award-winning media maven, a standout PR agency manager from the corporate side of a leading global law firm, and an experienced executive with both large agency and public company credentials. Bospar's larger team includes experts in both social and traditional media, as well as financial and analyst relations and public affairs.