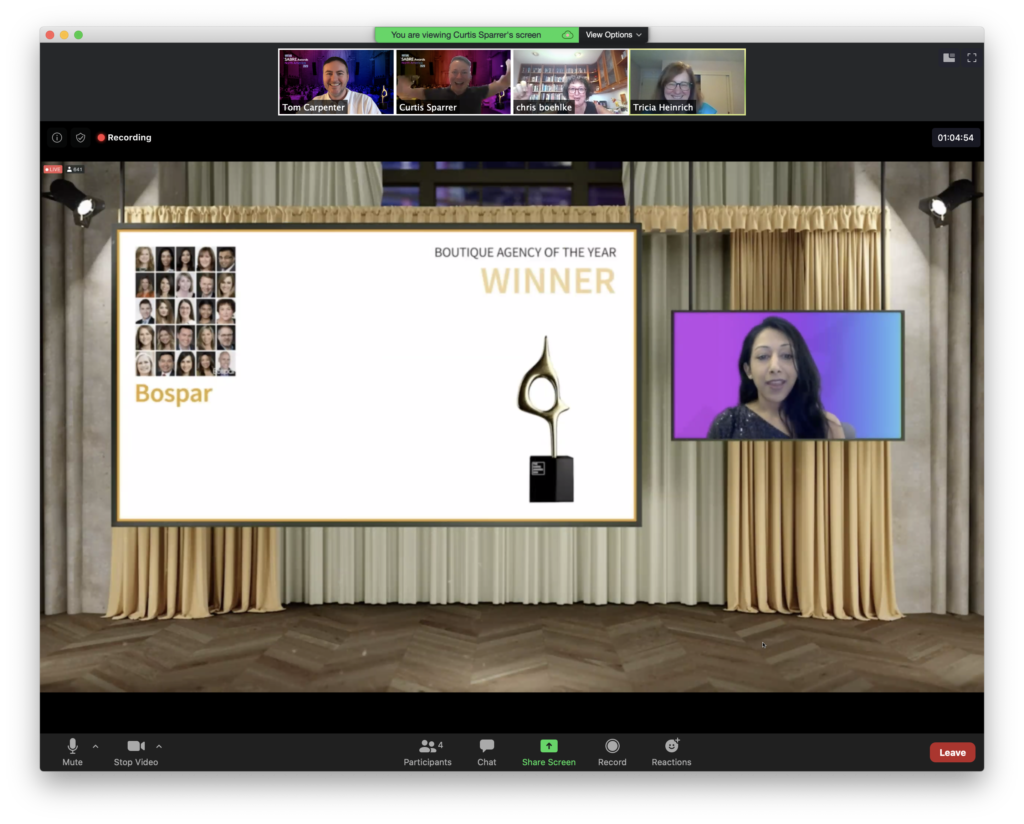 SAN FRANCISCO—May 29, 2020—Bospar, the boutique PR firm that puts tech companies on the map, has won PRovoke's 2020 North America Boutique Agency of the Year Award.
The 2020 North America PR Agencies of the Year are the result of an exhaustive research process involving more than 150 submissions and 50 face-to-face meetings with the best PR firms across the U.S. and Canada.
Winners were unveiled May 28 at the North American SABRE Awards ceremony, the first virtual awards dinner since the competition launched 20 years ago. The moment Bospar's win was announced was captured on video as the agency's leadership team attended the event via Zoom video conferencing.
In the age of coronavirus, Bospar's operating model is proving to be remarkably prescient. "It remains unseen whether the current crisis will become the tipping point for virtual agency models – but being distributed hasn't hindered Bospar's remarkable five-year trajectory," explained PRovoke in its post-event announcement. "The tech shop has grown to $6m with 30 people – up from$4.7m in the year prior."
"I never thought watching an award ceremony from my kitchen would feel so magical," said Curtis Sparrer, a Bospar Principal. "Being named 'Boutique Agency of the Year' is a testament to the hard work of our team and our clients. I want to thank everyone at PRovoke for recognizing our hard work. We are humbled and grateful."
Bospar Principal Chris Boehlke said, "The PRovoke team pulled off a great event that was as exciting as the in-person event – in some ways even more so. We've worked with event host Paul Holmes, PRovoke founder and chair, since he first expanded into the U.S. many years ago, so it is a thrill to receive this recognition and at such a unique moment in time."
Principal Tom Carpenter said, "We work diligently to get the results that matter to our clients, and that is the basis for our being named an agency of the year." He added, "Even though we were 'attending' from our homes, it was a thrill to hear the Bospar name announced – virtually – as a winner."
"In these challenging times, it is great to be recognized for our accomplishments and celebrate our talented team and valued clients," commented Bospar Chief Content Officer Tricia Heinrich. "Our real reward, of course, is seeing our clients succeed, but recognition of our work by our peers feels wonderful, too."
About PRovoke
PRovoke was founded as the Holmes Report in 2000 by Paul Holmes, founder and chair, who has more than three decades of experience writing about and evaluating the public relations business and consulting with both public relations firms and their clients. PRovoke delivers against its mission by providing the most sophisticated reporting and analysis on public relations trends and issues, along with an extensive global footprint of events and awards.
About Bospar
Bospar is a boutique tech PR firm featuring a team of highly seasoned professionals who exist to put tech companies on the map. Bospar's principals include a longtime PR and tech industry guru, a former broadcast TV producer and award-winning media maven, a standout PR agency manager from the corporate side of a leading global law firm, and an experienced executive with both large agency and public company credentials. Bospar's larger team includes experts in both social and traditional media, as well as financial and analyst relations and public affairs.