Boutique PR Agency Recognized for Marqeta Money20/20 Strategic Campaign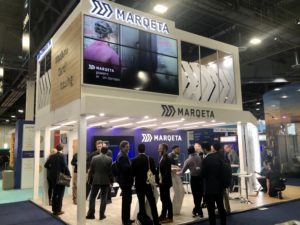 SAN FRANCISCO – May 1, 2020 – Bospar, the boutique PR firm that puts tech companies on the map, today announced it won a Gold 2020 MUSE Creative Award for its work with Marqeta at the Money20/20 conference. The MUSE Awards are an international competition with over 15,000 entries from more than 50 countries around the globe.
The Winning Entry
Money20/20, the premier banking and fintech conference in the U.S., is traditionally an incredibly "noisy" event. Bospar developed a plan to help Marqeta rise above the clatter; activities included 20 in-person meetings over three days, a CEO keynote and panel, a C-level fireside chat, and three announcements.
Marqeta wanted a high-visibility presence at Money20/20 following its 2019 emergence as a fintech unicorn valued at over $2 billion. The company tasked Bospar with: increasing its brand awareness by establishing Marqeta as the category-leading, de facto choice for modern card issuing; getting everyone talking about Marqeta; positioning its key executives as expert authorities on modern card issuing and digital banking; and boosting traffic by generating earned media coverage about Marqeta's offering and why it is the pioneer and leader in the category.
Coming on the heels of its Series E funding and other company news, Marqeta needed something new and significant to get media attendees excited. A joint Visa announcement paired with proprietary and timely digital banking research and a game-changing new reserve capital product were the solution.
Bospar developed a messaging track consistent with Marqeta's CEO and CRO conference messaging, company announcements and a third-party data release. The press releases were issued in a "rolling thunder" approach throughout the first three days of the event. In addition, Marqeta's social presence at Money20/20 was amplified by Bospar by posting videos such as backstage interviews with key executives, photos, quotes, and event information.
Hard work delivered success. The Marqeta Money20/20 campaign resulted in more than 31 media placements equating to 51M+ impressions across top-tier business and finance publications and influential trade outlets. Overall social metrics included 550,000+ Twitter impressions with 13,000 engagements and 212 retweets, 214,000+ LinkedIn impressions with an 88% engagement rate and 45 shares, and a reach of more than 55,000 on Facebook with 3,000+ engagements.
"Money20/20 is a major driver of both brand awareness and sales leads for Marqeta, and it is where we look to make our most high-profile announcements to the market. We asked a lot of Bospar and they met the challenge admirably, booking two dozen reporter meetings, driving strong news pick-up and generating great social buzz during the conference," said Vidya Peters, chief marketing officer at Marqeta.
The Gold MUSE Creative Award comes as Bospar celebrates its five-year anniversary. "As we celebrate the latest recognition of our work, we continue to deliver optimum outcomes for our clients," said Bospar co-founder and principal Curtis Sparrer. "The MUSE Award is peer validation of our efforts. It's what we've done right up to the present day and what we'll continue to do in the months and years to come."
About MUSE Creative Awards
The MUSE Creative Awards are an international competition that celebrates excellence in the craft and art of communications and honors creative professionals who possess the unique ability to inspire with a concept, idea or design. The Muse Creative Awards are administered and judged by International Awards Associates (IAA) and stellar panels of internationally-recognized professionals. Judges hail from leading companies in the creative and digital industry from all corners of the globe, including power brands like Grayling, DMG, McCann Worldgroup, Stewards of Wildlife, United Nations Children's Fund, and Hewlett Packard Enterprise.
About Bospar
Bospar is a boutique tech PR firm featuring a team of highly seasoned professionals who exist to put tech companies on the map. Bospar's principals include a long-time PR and tech industry guru, a former broadcast TV producer and award-winning media maven, a standout PR agency manager from the corporate side of a leading global law firm, and an experienced executive with both agency and public company credentials. Bospar's larger team includes experts in both social and traditional media, as well as financial and analyst relations and public affairs.