SAN FRANCISCO—March 26, 2021—Bospar, the boutique PR firm that puts tech companies on the map, revealed the Public Relations Society of America (PRSA) selected Bospar as a finalist for a Silver Anvil award, honoring PR agencies that "successfully addressed challenging issues with exemplary professional skill, creativity and resourcefulness."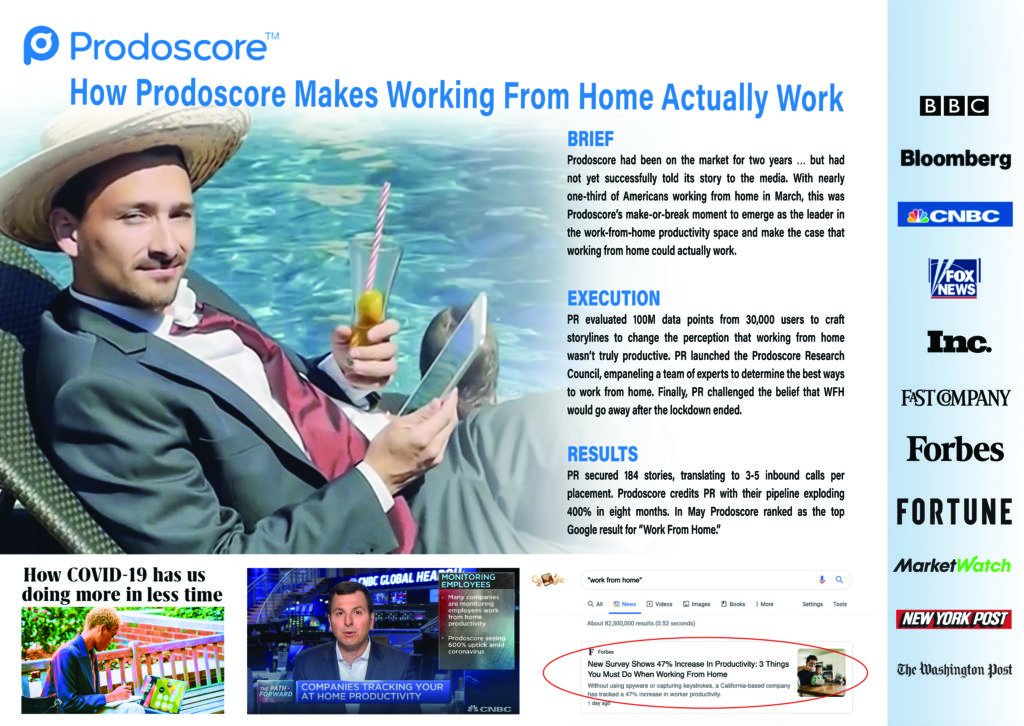 The 77-year-old Silver Anvil Awards recognizes Bospar's work with client Prodoscore, a productivity tool that scores employee performance. Bospar is competing in the Issues Management category. Winners will be announced June 10, 2021.
The PRSA is the latest industry group to recognize Bospar's standout work with Prodoscore. Last week, the agency won "Best in Corporate Branding" for its work for Prodoscore at the PRWeek 2021 Awards.  Earlier PRovoke awarded Bospar's campaign for Prodoscore with "Best New Product/Brand Launch." 
"This time we're rehearsing our most gracious losers' claps," said Curtis Sparrer, principal and cofounder of Bospar. "The competition is fierce, like 'lipsync-for-your-life' fierce. That's why we're asking all our PRSA friends to vote for our entry for the 'Audience Choice Award.'  Simply click on 'How Prodoscore Makes Working From Home Actually Work.'  It's just three tabs down, #66 if you're counting.  The voting deadline is April 16!  No pressure!"      
Bospar has emerged as a force to be reckoned with among tech PR agencies. The firm was recently honored by Inc. magazine, when that publication named Bospar to its list of California's most successful companies. Inc. ranked Bospar No. 230 on its second annual 5000 Regionals California list, the most prestigious ranking of the fastest-growing California-based private companies. 
Earlier this year the agency was named a PRovoke SABRE four-award recipient. In 2020 Bospar was  selected to Forbes' list of America's Best PR Agencies 2020 and PRNews inaugural Agency Elite Top 100; earned four MarCom Awards, including three platinum; was named a PR World Award Grand winner; and was honored with a PRovoke's 2020 North America Boutique Agency of the Year Award, a Gold 2020 MUSE Creative Award, and two Innovation SABRE awards. In its most recent ranking, the San Francisco Business Times named Bospar as the eighth largest Bay Area LGBT-owned business. 
About Bospar
Bospar is a boutique tech PR firm featuring a team of highly seasoned professionals who exist to put tech companies on the map. Bospar's principals include a long-time PR and tech industry guru, a former broadcast TV producer and award-winning media maven, a standout PR agency manager from the corporate side of a leading global law firm, and an experienced executive with both large agency and public company credentials. Bospar's larger team includes experts in both social and traditional media, as well as financial and analyst relations and public affairs.