What happens if you take a controversial stand?
At Bospar we agreed to pay for the relocation of any Texas staff member who wants to leave over the state ban on abortion, the most restrictive in the nation.
We made clear that this wasn't about politics or ethics. This was just good business sense, especially since nearly 80% of our staff are women. Selfishly, we want to retain and attract the best workforce imaginable. We also want to leverage our completely virtual model to its full advantage, making clear that Bospartans can work anywhere they want.
We also wanted to serve as a role model for other companies wondering how they could respond to a law that is deeply unpopular among women and the workforce of tomorrow.
Using the tools we knew best, we created a PR strategy to amplify our message.
Show skin in the game
When we first determined we wanted to get involved, we knew we couldn't just put words on paper. We had to do something meaningful to show journalists and the public at large we were serious, while also doing something that our staff would appreciate. After hearing from some of our Texas staff members, we discovered that having the freedom to leave the state would be the most important service we could deliver. After checking with our accounting and legal teams, we decided to move forward.
Craft and share the message
The next step was to write a press release, pitches, blog entries, and social media posts. We needed to make sure that these messages demonstrated our opinions and were sensitive to the core contingencies we care about most. Then, we needed to pivot when news broke that the Justice Department sued Texas over the abortion law.
Consider what will happen next
I was very worried hours before the press release was to go out. It was the familiar anticipation you have right before a schoolyard fight. Would we get slammed by internet trolls? Would anyone care? How would the stories read? I woke up just moments after 4 a.m. and waited.
Watch the coverage roll in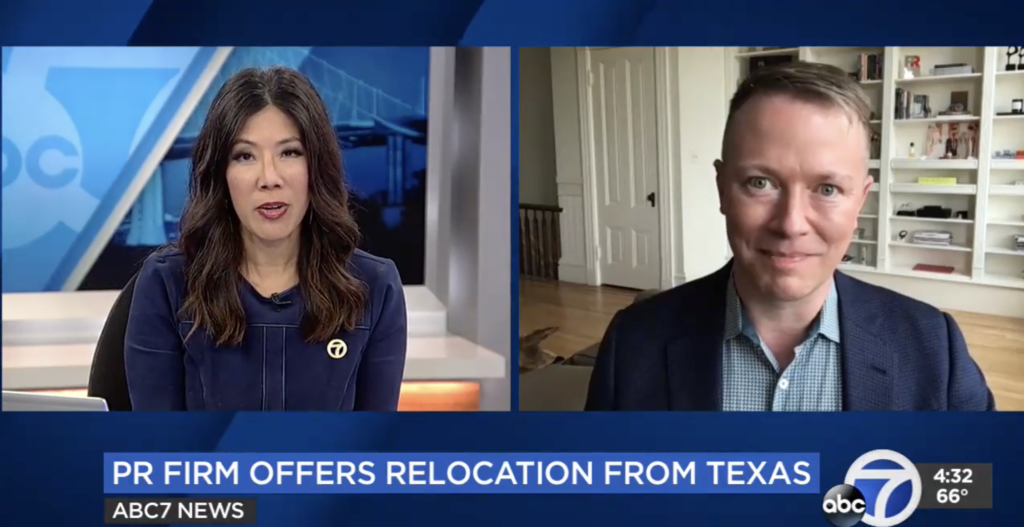 The Dallas Morning News reported that Bospar, "one of the few to publicly speak out against the law, said it also will extend the plan to staff members outside Texas if other states implement similar abortion laws."
PRovoke quoted Sarah Freeman, a Bospar senior account executive based in Austin: "Companies and businesses with employees in Texas have a choice right now: offer employees control of their own reproductive health or risk them leaving."
Employee Benefits News wrote: "'Bospar is willing to pay for a Texas staff member's relocation out of Texas to ensure they get the healthcare they need, free from the surveillance of others. Should other states adopt similarly restrictive abortion bans, we will expand our program."
CBS SF Bay Area added this detail: "In an email to KPIX, Bospar principal Curtis Sparrer said he was 'personally attached' to the response to the Texas law, being a native Texan who grew up gay and 'experienced first-hand the power of Texas legislators who wanted to determine how I lived my life.'"
ABC 7 News interviewed me live during their 4pm show and congratulated me for getting into "good trouble."
KRON-TV included our social media post: "At Bospar, we care deeply about our team members, especially when it comes to their choices about their reproductive healthcare. In light of Texas's new abortion ban, we have formed a #Texas Relocation Plan for team Bospar."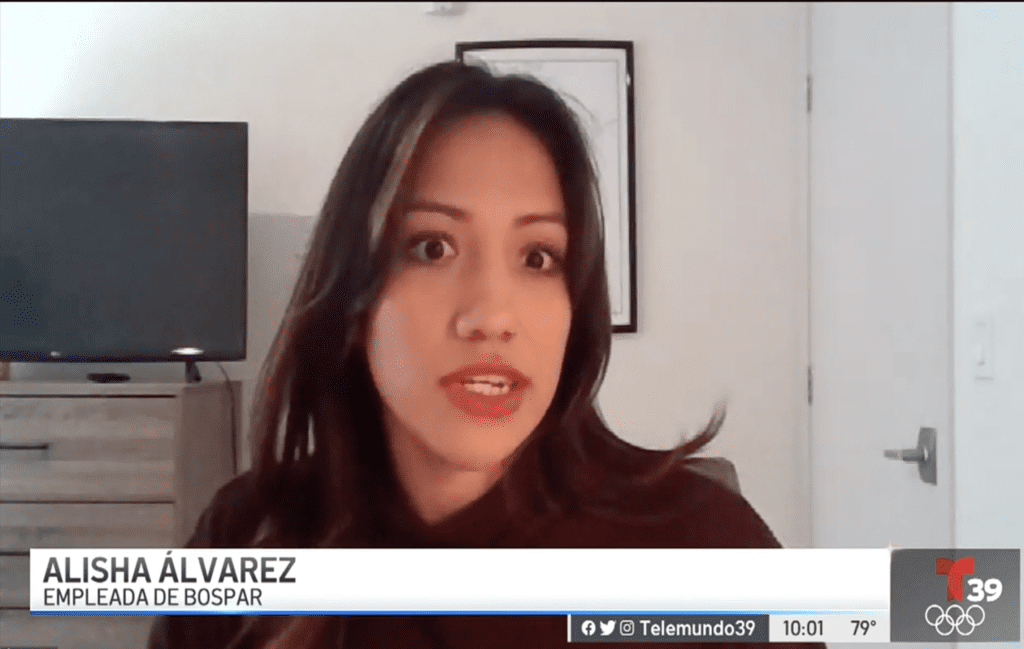 Telemundo interviewed Bospar Account Manager Alisha Alvarez.
PRWeek featured the story the next day as one of the "5 Things For PR Pros to Know Friday Morning."
Austin's KVUE quoted me on the potential for brain-drain: "To incentivize neighbors and friends to create Gilead-on-the-Brazos is political overreach that will result in Texas losing its most talented workforce to California, New York and everywhere in between."
Predictably, hate mail started to come in, too
One man identifying himself as Kenneth Waller wrote: "I recently read an article in the news about your offer to relocate office staff out of Texas. I would encourage you to relocate all of your California staff from Texas as, here in Texas, we most certainly don't need your company's services and, most of all, we do not need any of your demented California ideals and philosophys (sic). Good Riddance.
Mike Flemming added this: "We in Texas are so happy that you want to leave our state and move back to California. Is there any way we help you to relocate sooner? Please tell your friends in California that Texas does not want you and please stay in place. btw say hello to Gov Elder for me."
But that was it.
We received only these two pieces of hate mail, predictably from men.
Our staff loved what we did
Kevin Martin was first to send a note: "Proud to work for a company that believes all humans should have autonomy over their bodies."
Emily Roberts wrote: "Wow. I have never worked for a company that doesn't just talk the talk. Thank you."
Clients – present and future – flooded our feed with congratulations
A client wrote: "OMG! I just saw your Texas relocation announcement on LinkedIn and it made me cry! xoxo"
And potential clients were impressed, too. Maryanne Morrow, the CEO and Founder of 9th Gear, wrote: "Thanks for your leadership! Now that's some good earned media!!!!"
So, that's what happens when you take a controversial stand.