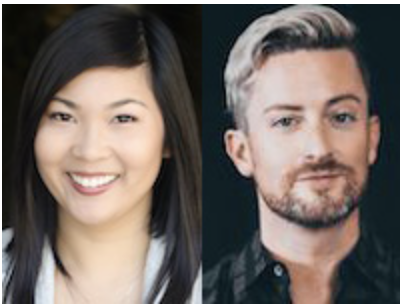 SAN FRANCISCO — November 18, 2021— Bospar, the Politely Pushy® PR firm that puts tech companies on the map, is bolstering its social media practice with two key new hires. Mega Jewell has joined the company as vice president of social media and Samuel (Sam) Anthony Harwit as director.
"After winning awards for our social media program for Yellowbrick, we had to keep up with the demand," said Curtis Sparrer, Bospar principal and co-founder. "Mega and Sam are the ultimate social media mavens, using their extensive experience in communications and media to inform their social media practice. They excel at sharing intentional and impactful stories, especially in the digital and social realms. With our new talent in place, we will be able to expand our influencer relations offering and social integration for our client programs."
With more than a decade of experience, Jewell has proven success with social media and digital marketing strategies. She honed her skills as a spokesperson while handling lead messaging and public affairs for the Translational Pulmonary & Immunology Research Center. Previously, she focused on video and digital storytelling as a television news anchor and reporter.
Jewell serves as head of multimedia content at the Public Relations Society of America (PRSA) – Silicon Valley. She mentors students and others who want to enter the public relations industry, helping them develop their skills and build their confidence for a future in communications.
"Bospar is committed to serving its clients wholeheartedly. They have very high standards and are results-oriented," said Jewell. "I'm thrilled to be part of the Bospar team."
An early adopter of social and influencer marketing, Harwit has spent the last two decades building a career in digital marketing. In 2015, Harwit launched his own influencer brand @samuelanthony with his husband Erik (@casualfridaze51) in conjunction with their lifestyle blog The Frenchy Toast. 
"I'm excited to be joining such a diverse and talented team of communications professionals who understand the leverage social media commands," said Harwit. "Together we will develop engaging programs, outperforming competitors and client expectations, without compromising the quality that Bospar has come to represent."
About Bospar
Bospar is the Politely Pushy® tech PR firm featuring a team of highly seasoned professionals who exist to put tech companies on the map. Bospar's principals include a long-time PR and tech industry guru, a former broadcast TV producer and award-winning media maven, a standout PR agency manager from the corporate side of a leading global law firm, and an experienced executive with both large agency and public company credentials. Bospar's larger team includes experts in both social and traditional media, as well as financial and analyst relations and public affairs.