Meta's new platform, Threads, hit 100 million users, surpassing ChatGPT as the fastest-growing app ever. And the scary thing? It's not even available in the EU yet.
The platform that was promised, the true Twitter killer, has arrived. No offense, Mastodon or Bluesky, but with a somewhat trusted backer (OK, at least they payout when there is a data breach) and a qualified/eager userbase to draw from, Threads has serious staying power. Therefore, I challenge you and your brand to take a chance on Threads.
It's a fresh start with endless possibilities. No deleting old content, changing your username to something more snappy, and updating your profile photo then seeing what shakes out. You can also leave your baggage about Musk, brand-safety concerns or any experience you had on Twitter behind. Everyone is starting the same puzzle at the same time.
Folks with a large Twitter following or blue check marks who haven't invested in building an audience elsewhere will try and tell you things like…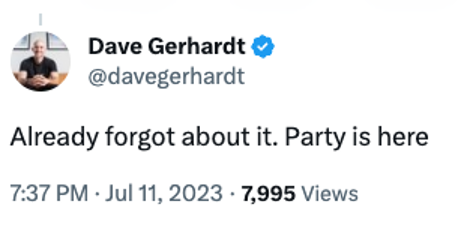 or

and possibly

However, as of Tuesday, reports stated Twitter's traffic fell 5% during the first two full days Threads was available, and that's before a desktop version of Threads is even available.
For many brands that don't have a Coca-Cola-sized advertising budget, this is a real shot at glory. We see everytime a new platform is introduced, there are brands and personalites who leave their mark on a social channel because they are early adopters figuring out the best way to tell stories. We have the opportunity to make and influence the strategy and use cases for the platform. No best practices of posting every day at a specific time to better serve the algorithm.
Personal grudge against Twitter as an advertiser, the customer service has completely vanished since Elon Musk took over. I am by no means saying Meta has lovely customer service. But think Southwest vs. Spirit airlines as a comparison. When it comes to advertising, Threads will have a leg up on Twitter as it will share the same backend platform as Facebook and Instagram, making it incredibly easy to manage ads and content.
Threads is a platform full of promise and opportunity. The number of downloads validates it. However, it's critical to remember sign-ups don't necessarily mean everything. Threads will ultimately be judged by users, advertisers and Meta by the number of conversations it produces and how it controls the spreading of misinformation.
So, will you join us and take a chance on Threads?
Learn more about our social offerings here or email me directly: connor@bospar.com.
Follow Bospar on Threads now!