SAN FRANCISCO—March 28, 2022—Bospar, the "Politely Pushy®" PR firm that puts tech companies on the map, today announced that it will award an educator a grant up to $20K for continuing education and any certifications or higher education they may be seeking, or to fund a project or expense related to helping their local community. The selected teacher will participate with Bospar's publicity campaign that advocates against Florida's pending "Don't Say Gay" law as well to help raise awareness about this important issue. The move is the latest work under the umbrella of the Bospar Stands Up justice initiative and comes amid the Florida law's imminent passage and expected enactment in July 2022.
Applicants for the Bospar Human Rights Grant for Educators should be public or independent school teachers or administrators in Florida, with excellent professional records, who are on the front lines of the law's impact, want to further their education and professional development, and want to make a positive difference in support of LGBTQIA persons.
The grant's launch accompanies research commissioned by Bospar polling more than 3,000 adults, nationwide from 18 to over 65 years of age, about the bill and the political calculus of its advocates.
"The grant and survey are a result of Bospar's commitment to education, communication and human rights, as was our recent Mess with Texas campaign that protects employees from overly restrictive abortion laws," said Curtis Sparrer, principal of Bospar. "When we see something wrong, we stand up. As part of our Bospar Stands Upwork, our campaigns confront actions that create lasting harm, reinforce negative stereotypes, and are contrary to the basic principles of equal justice. We're working with other PR agencies so that more grants can be offered as this destructive bill and others like it become law. Politicians need to stop using teachers, kids and families as punching bags for partisan gain."
The pending Florida legislation prohibits teachers from instruction on sexual orientation or gender identity through third grade and enables political appointees at the state education department to decide what "age appropriate or developmentally appropriate" instruction entails for higher grades.
"As a former educator for 20 years and a member of the gay community, it's clear the law's advocates are targeting teachers and families with LGBTQIA members in order to score political points—rather than trying to solve any real problem," said Racquel Yerbury, Sr. Content Director at Bospar and Fulbright Teacher Exchange recipient, who was also born and raised in Florida and is an alumna of Florida State University. "Teachers work to make classrooms a safe learning environment for every student. The legislation makes that job harder by stigmatizing families with two moms, two dads or non-conforming parents. It doesn't help parents or students. Florida Governor DeSantis doesn't appear to care much about the rights of parents who disagree with him."
Survey Shows No Public Mandate for "Don't Say Gay"
The survey data indicates a plurality of respondents thought children should start learning about their gender before the age of 5 (35%); others said age 5 to 8 was appropriate (27%), 9 to 12 (18%), 13 to 16 (10%) and 17 or older (10%). The data clearly shows that there's no public mandate in support of the "Don't Say Gay" bill and that more people oppose the legislation than support it: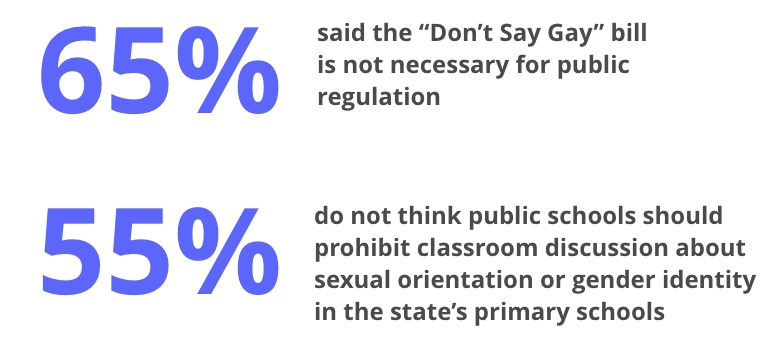 Respondents were asked about a hypothetical but real world scenario: If a child does a presentation about summer vacation with his two moms and a classmate says two moms can't be parents, how should the teacher respond?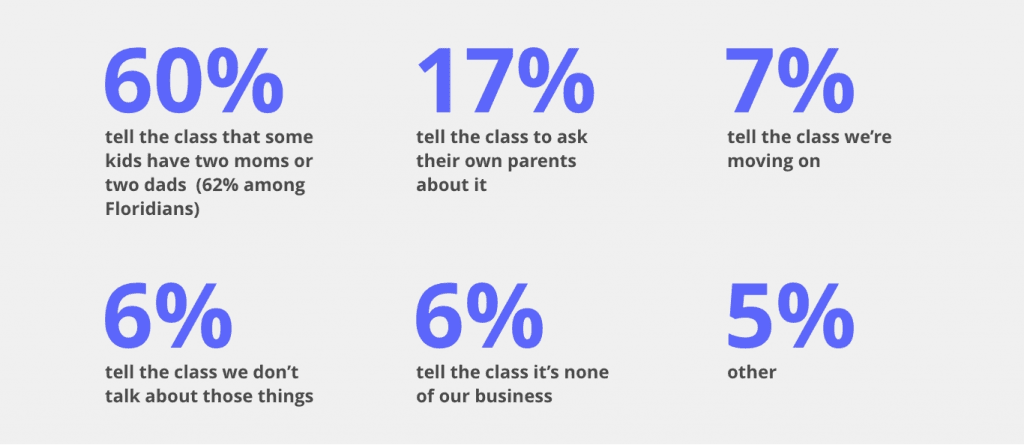 The survey also revealed a lack of knowledge about historical figures commonly discussed in primary school. Respondents agreed that various historical figures were worth learning about at a young age, especially Alexander the Great (40%), Michelangelo (40%), Leonardo da Vinci (49%), and Astronaut Sally Ride (41%), but only 11% knew that those figures were gay.
Harmful Impacts Likely
More respondents, a plurality at 39%, believed the bill will negatively impact gay children. One-third, 32%, said the bill will have no impact, 27% said children would be positively impacted, and 7% said there are no gay children.
When all respondents were asked what they think will happen if Florida passes the "Don't Say Gay" law, selecting all that apply, top responses included: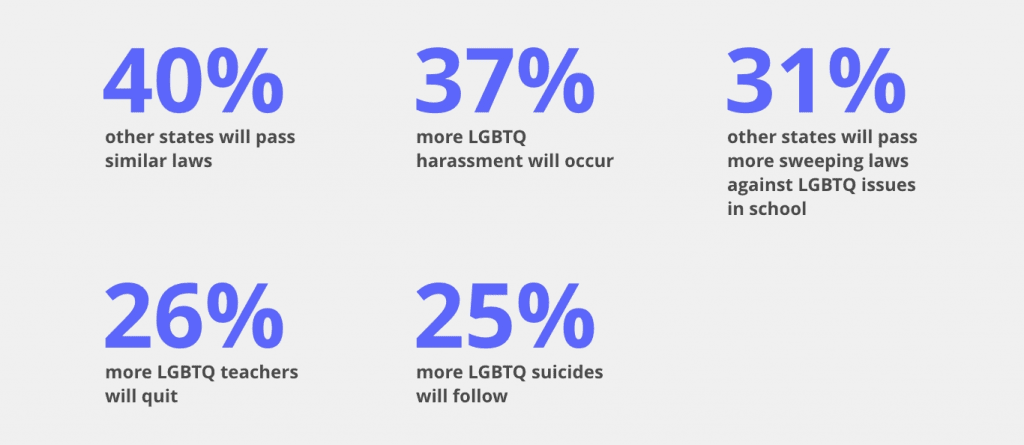 The Trevor Project, an American nonprofit founded in 1998 which provides 24/7 crisis support and suicide prevention services to LGBTQ young people, reports that "suicide is the second leading cause of death among young people, with LGBTQ youth being four times more likely to seriously consider suicide, to make a plan for suicide, and to attempt suicide versus their peers." The Trevor Project also estimates that "at least one LGBTQ youth between the ages of 13–24 attempts suicide every 45 seconds in the U.S."
"Those hopeless feelings don't come out of the blue," added Yerbury. "They come from years of being isolated, stigmatized and bullied. Kids are with teachers all day, and they help them make sense of the world, starting in primary school. Their guidance is indispensable in breaking down stereotypes and harmful prejudices that emerge when you don't educate, discuss and instruct. Along with the so-called "Individual Freedom" bill, this is thinly veiled hate legislation, divisively rolling back basic human rights, and it's shameful that legislators of our third most populous state are pushing backward into ignorance and propaganda, much like dictatorships around the world."
Regarding views about business with respect to "Don't Say Gay" legislation, almost a third of respondents, 31%, said they will boycott Florida businesses that support the law. And when asked how, if enacted now, the law would impact feelings about Florida, 36% said they would have negative feelings about Florida; 23%, positive feelings; and 41%, no thoughts on the matter.
Survey Reveals Views on Political Motivations
The political motivations behind the law were clear to respondents. A significant majority, 69%, thought Governor DeSantis was supporting the "Don't Say Gay" bill to help him win a primary contest for the Republican presidential nomination, but fewer, 51%, thought it will actually help him do it. More than half of those surveyed, 56%, said DeSantis supports the bill for political reasons, and 44% said he did not.
DeSantis may want to watch out for public opinion. A sizable majority of respondents, 59%, have a less favorable opinion of him due to his support of the bill, with 41% holding a more favorable opinion of him. Even more respondents, 69%, said the bill would not make them want to vote for DeSantis for President.
Applications and selection criteria for the Bospar Human Rights Grant for Educators are available on the Bospar website here.
Contact
Curtis Sparrer
Principal
Bospar Public Relations