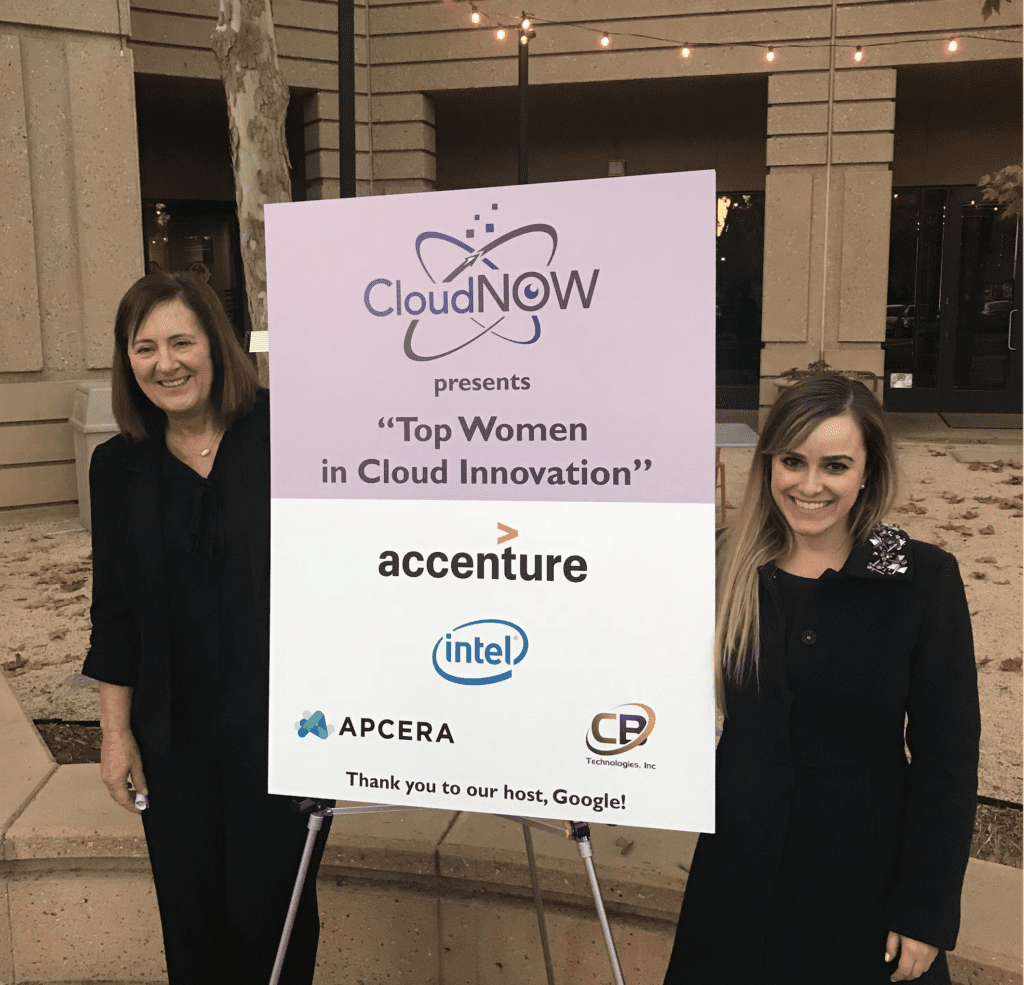 Challenge
Harvey Weinstein. Matt Lauer. Travis Kalanick. Donald Trump. Mario Batalli. Louis CK.
2017 brought the rise of the #MeToo movement and, with that, feelings of distrust, disenfranchisement and sheer anger.
But it also brought feelings of empowerment and opportunities for women to be heard. Organizations like CloudNOW are helping promote female empowerment, especially in the workplace. Aimed at providing a forum for networking, knowledge sharing, mentoring, and economic growth for women in cloud-computing, CloudNOW is continuing to make waves. And Bospar is helping them do so.
Bospar's relationship with CloudNOW has spanned several years, but this year it got very real, very quickly. Bospar is an agency of diversity, with our employees representing a vast array of backgrounds. And most of us are women. Working with CloudNOW to help promote the advancement of women in cloud is a no-brainer.
Program Elements
In 2017, CloudNOW had a few noteworthy partnerships and programs, including:
Holberton School
Using project-based learning and peer learning, Holberton's mission is to train the best software engineers of their generation
CloudNOW and Holberton worked with Google, Accenture and Scality to help finance student costs for an award-winning software engineering education
Teams worked to develop and distribute a press release around a stipend announcement in October
Bospar's team pitched the story to media to secure interest
Shanti Bhavan
CloudNOW teamed up with the Shanti Bhavan school in Bangalore, India, to help provide STEM education to female students in India
Shanti Bhavan was the subject of the recent hit Netflix documentary "Daughters of Destiny" and is the only educational program of its kind
Together with Intel, Apcera and CB Technologies, CloudNOW awarded full scholarships covering tuition and living expenses for a year to three women dealing with extreme socioeconomic barriers
Bospar worked with the Shanti Bhavan team to draft and distribute a press release in November
Bospar's team pitched story to media to secure interest and coverage
6th Annual Women in Cloud Awards
CloudNOW held a successful event at Google HQ honoring the top ten women in cloud
Team worked with Google, LinkedIn, Accenture, and leaders in tech and business to plan and execute an awards event in December
Bospar handled media outreach, social media and on-site staffing at event, as well as post-event needs
Bospar worked with Jennifer Cloer, artist and documentary filmmaker of The Chasing Grace Project, to showcase women from the project; the series highlights women in tech and how some have risen in the face of adversity to succeed in their fields
Sample Coverage
SiliconANGLE: Peer-to-peer, collaborative learning essential for Holberton software engineering students
Forbes: How Women Will Reclaim Their Seat At The Tech Table
Fox KTVU: Female awarded scholarships to study technology
KCBS: KCBS-AM (Radio) – San Francisco, CA
Portland Business Journal: Portland women in tech documentary debuts photo exhibit
TechRepublic: Why the tech industry needs more discussion about womens' accomplishments
The NewStack: LinkedIn Engineer's AI Work Recognized by CloudNOW Innovation Awards
TechCrunch: Holberton gets backing from more industry executives as it looks to scale its software engineering school
Fortune: Google and Friends Help Students at This Elite Tech School Defray Costs
NBCNews.com: Google Manifesto Hits a Nerve in Silicon Valley
Results
Bospar worked with partner PR teams from Holberton, Shanti Bhavan and The Chasing Grace Project to secure feature stories in top business, tech and local outlets, including Forbes, TechCrunch, Fortune, SiliconANGLE, Portland Business Journal, KCBS, Fox KTVU, TechRepulic, and The NewStack.
"Bospar has been a critical partner to CloudNOW in helping us expand our philanthropy, as well as raising our profile and attracting organizations like Google, Intel, HPE, and many others to our community network," said Jocelyn DeGance Graham, founder of CloudNOW. "Bospar is part of our extended team as we work together to support the next generation of female leaders in tech."
Budget: Bospar invested 100 hours