SAN FRANCISCO — October 7, 2021— Bospar, the Politely Pushy® PR firm that puts tech companies on the map, continues to expand its award-winning team with the appointment of Kimberly Barnes as senior vice president. Barnes brings her well-honed and valuable media insights to the agency to help clients achieve their marketing and corporate branding objectives.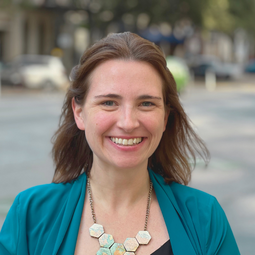 Barnes is a proven communications strategist and agency veteran who has worked with companies of all shapes and sizes, from pre-seed startups to household names like 3M and Google. She spent more than 10 years with PR agency Antenna Group, where she led its Clean Technology Practice and internal communications initiatives, rising to SVP. Barnes launched PR and marketing consultancy Bradford Jean in 2019, where she worked with companies in the technology, industrial and energy sectors.
Barnes has spearheaded media campaigns resulting in coverage from the Associated Press, Bloomberg News/TV, CNBC, Fast Company, Forbes, Fortune, MarketWatch, Motley Fool, Reuters, The New York Times, and The Wall Street Journal. Her narratives can also be found in winning nominations for high-profile honors including the World Economic Forum Technology Pioneers, Ernst & Young Entrepreneur of the Year, WSJ Technology Innovation Awards, R&D 100, and Bloomberg New Energy Pioneers.
"Kim is all that – and a bag of chips – the consummate PR professional," said Curtis Sparrer, principal at Bospar. "Not only is she a master at crafting impactful programs for clients, she is also a thoughtful counselor who excels at transforming complex topics into compelling, easily digestible stories. While we are proud of our record growth and the spectacular results we are able to deliver for our clients, we are always looking ahead to what more we can achieve. We are thrilled Kim has joined our team; her wealth of experience coupled with her PR acumen will be a tremendous asset for our agency and our clients."
"What sets Bospar apart is the team's unparalleled dedication to their clients and to each other," said Barnes. "Joining this exceptional group is a dream come true, and I look forward to working alongside my fellow Bospartans as we charge ahead into our next phase of growth."
About Bospar
Bospar is the Politely Pushy® tech PR firm featuring a team of highly seasoned professionals who exist to put tech companies on the map. Bospar's principals include a long-time PR and tech industry guru, a former broadcast TV producer and award-winning media maven, a standout PR agency manager from the corporate side of a leading global law firm, and an experienced executive with both large agency and public company credentials. Bospar's larger team includes experts in both social and traditional media, as well as financial and analyst relations and public affairs.