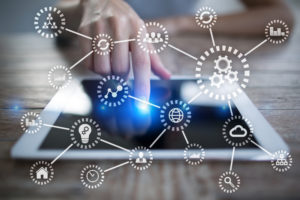 Hi. I'm Gaby, and I'm a full-fledged technology buff.
I haven't always been. My undergraduate degrees were in English literature and art history. In graduate school, I took classes on sports journalism and public relations for nonprofits. I never played video games as a kid, and I owned a Blackberry way after it was cool.
I thought the tech world was for someone else. Someone who had seen all of the Star Wars movies (not me). Or someone who knew who Steve Wozniak was before "Dancing with the Stars" (also not me).
But here I am, working in tech PR. Nowadays, I can talk unicorns and artificial intelligence like a bona fide tech bro.
How did I make such a transformation?
Read. Research. Repeat.
As a tech PR newbie, I felt like an outsider in a world filled with things I had only ever seen on TV. But I knew the key to my success would be research.
So, the first thing I did when I started at Bospar was order a copy of Big Data for Dummies and Steve Lohr's Data-ism. I'm not kidding; I started at the beginning.
I watched tutorials on YouTube, and I spent my nights reading articles about digital transformation and net neutrality. I googled tech trends and tech journalists; I googled Google. And, eventually, I found my head above water.
Don't Get Caught With Flat Feet
As soon as I felt comfortable with my clients — their technology, software, platform or messaging — something would change: the software would be updated, a new competitor would arrive on the scene, the CEO would be replaced; or legislation changed.
The only constant in this field is that nothing stays the same.
To keep up, I set up email alerts for my clients and their industries and assumed that was enough. I was wrong. Then I signed up for real-time push notifications from the major news outlets, the business press, and the tech trades. I checked websites throughout the day, and I signed up for daily newsletters. I followed key journalists and influencers on Twitter and LinkedIn. I had the national news stations on in my office all day. That was better, but it still wasn't enough.
I realized that I never wanted to be on the back end of a news alert; I wanted to be the one telling my client and my team about the news. I adopted the role of everyone's favorite neighbor, spilling industry gossip as soon as I discovered it.
This also meant that I had to explain why my client should care, what my recommended action was, and what the possible outcomes of those actions (or sometimes inactions) might be. This was tremendously helpful to me in getting better at my job.
Ask Questions
We don't know what we don't know, right? But what I do know is that I don't know a software product the way an engineer does. Regardless of how many press releases, use cases, or blog posts we read, it's hard to fully comprehend a complex system.
When first signing up a client, the Bospar team requests a product demo, sometimes more than one, to understand the technology behind the product. I try to come to these demos with questions for the sales or engineering team. When I first started, I rarely asked questions. I thought it made me sound stupid, or I assumed that I could figure it out later. What I found was that I often had the same question as someone else and that asking the question often leads to a great discussion.
Determine Your Expertise
Become great at many things, but be an expert in one.
Of course, we should master our daily tasks, but we should also make sure to be the go-to source for one thing in particular. At Bospar, we have a broadcast media expert; a social media guru; someone who knows everything about working with bloggers; and someone I consult about pitching contributed content. We have our wordsmith-ers on the content team and a coworker who nails every awards submission.
The challenge is simply determining where your strengths lie and which space you'd like to own.
But Be Open to Learning a New One
Last but not least, don't be afraid to learn a new trick.
Take a class in Photoshop, learn a new language, or find a void that needs to be filled and dedicate yourself to understanding how to fill it. Be a person who is needed. That's what will really set you apart in this industry.