What happened when I offered Money20/20 attendees the chance to tell all with no reprisals
Googling Money20/20 doesn't answer the burning question about the "largest global fintech event."
That question: how was it?
Or more specifically, how could we possibly celebrate all things fintech after banks failures, multiple setbacks and being forced to add the three-letter acronyms FTX and SBF to our vocabulary?
The top search result provided a dutiful recap of the convention but didn't capture the collective feeling from the show.
"I'm hopeful for 2024," one founder told me after I offered her anonymity. "It just has to be a better year than this year."
That sense of "it has to be better" optimism, however, didn't quite make it to the convention floor. One CEO confided to me that he was going to pull back from exhibiting. He felt that holding sessions in suites was more intimate, more impactful and ultimately more cost effective.
"It's so expensive to exhibit here," he told me. "Plus, it frees us up from booth duty."
Another person lamented the lack of bankers. "Where did they go? Are they in hiding?"
One bank that wasn't hiding: Silicon Valley Bank.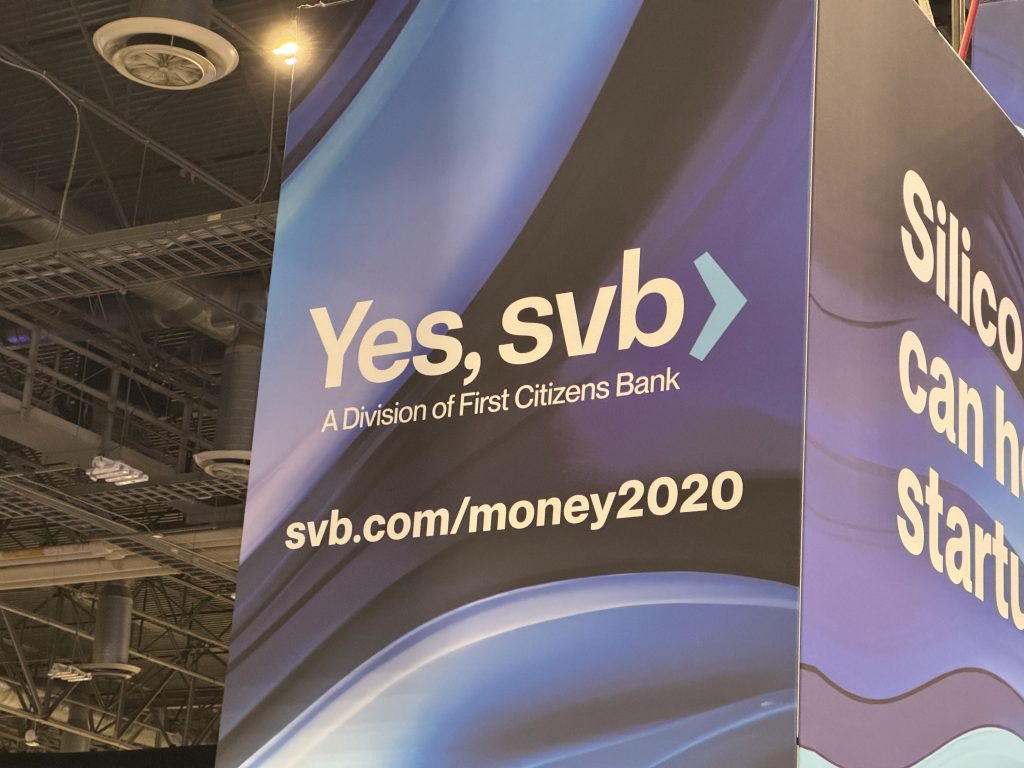 SVB attended with a rather large booth declaring what everyone was thinking: "Yes, svb." To me, the lowercase letters were no longer a hip way of acronymizing the bank, but rather a tacit attempt of humility after being shut down in March and brought back to life by First Citizens Bank.
Attendees, however, couldn't seem to get over the moxie of SVB attending Money20/20. One attendee recounted when svb visited his booth: "it felt like running into an ex who cheated on you. Where was the shame?"
Granted, I admire svb for putting its collective best foot forward. How else can a reset happen?
But I do have some recommendations for next year's exhibitors.
First: can we admit swag isn't working? On the last day of the convention, marketers tried to offload in bulk all sorts of unwanted swag that made me feel as if I was opening my own private Costco. Notebooks, pens, mints and bags. They all had to go! Perhaps, the most unusual swag from a marketplace perspective were socks, while the most useful takeaway items like aspirin were dismissed for being too disposable.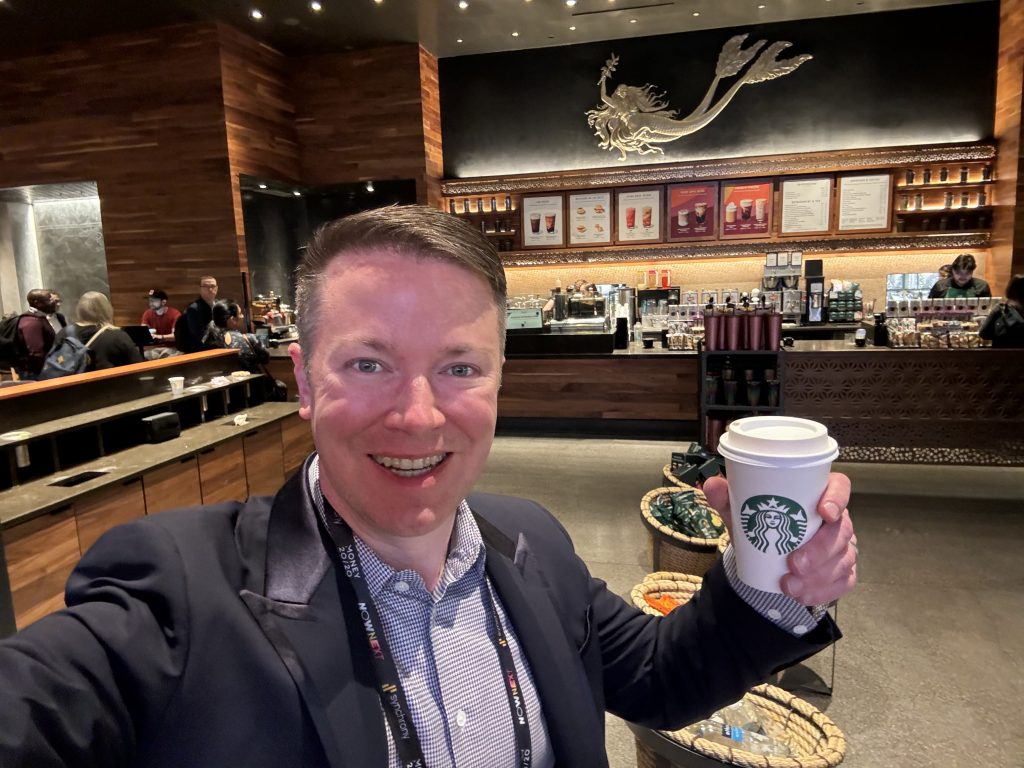 Exhibitors need to worry about their booths being too disposable, or at least too cookie-cutter. There are only so many times I can see the words "secure," "trust," "next-gen," and even "AI" without thinking they're table stake word decorations. That copycat mentality led to other similarities such as nearly one in 10 exhibitors hiring a barista to hawk coffee. At times I was torn between baristas because they were so close to each other. Which one should make me coffee?
LiveVox, however, did not hire a barista, but rather a traditional croupier to preside over a roulette table. "It's no risk and no skill," she told me, luring me in. "What do you have to lose?"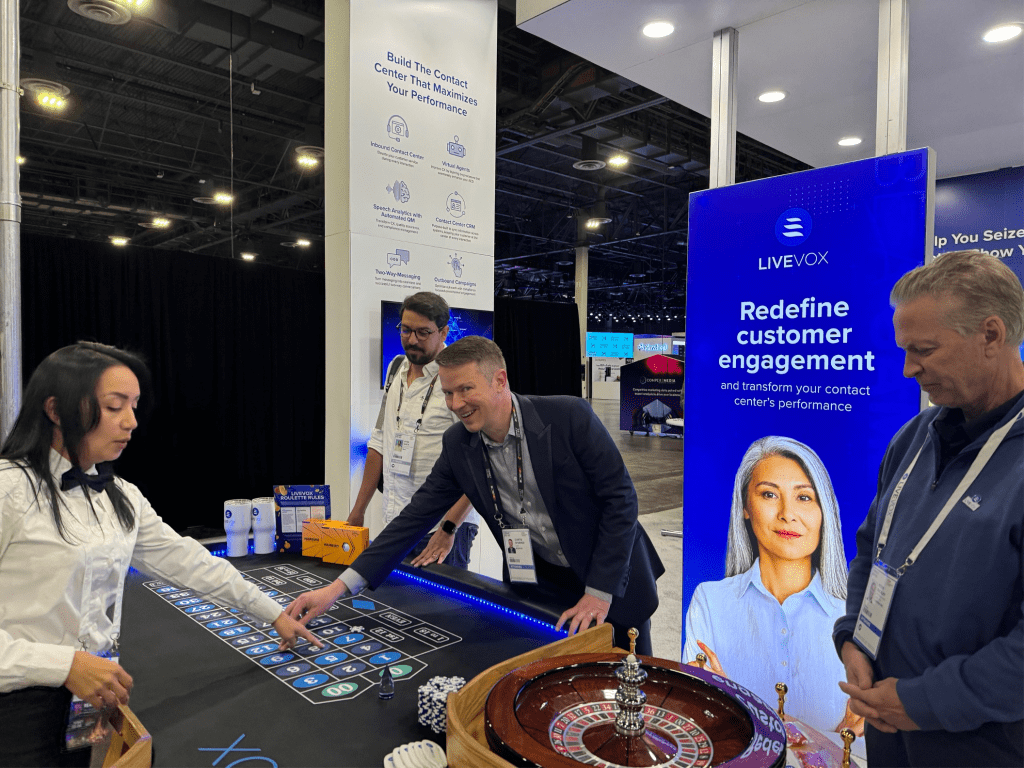 As I played roulette, I was struck that this exhibitor was the only company to embrace the Vegas brand. Perhaps there is something to be learned from a "when in Rome" strategy. Perhaps this also is a good closer for this post. After all, the leaders in banking and fintech had gathered after a spectacularly bad year to regroup and reset. Perhaps if they take a page from Vegas, they can make the smart bets and gamble on hope.