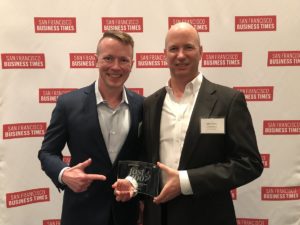 Deloitte Fast 500. Fast Company's Most Innovative Companies. Inc. 5000. CNBC Disruptor 50. Forbes 30 Under 30. If you are in tech PR, you have probably heard your clients talk about these awards and the importance of winning them.
However, if you've worked on these submissions, you know how time-consuming they are: you iterate on drafts, get the client to review and approve, and then submit the nomination (usually the hour before the deadline). And, of course, many of these deadlines happen at the same time of the year; many happen on the same day.
If you're looking to become an award-winning (pun intended) PR pro, here are a few best practices for navigating awards season.
A (Fast) Company's First Award Submission Is the Most Important
If you've been through awards season, then you know the importance of the first award submission you work on with a client. The first submission is the most time-consuming, but it's also the most valuable, because you can recycle the messaging in future submissions.
After a while, you'll be able to recall questions and answers from previous submissions that you can tailor and repurpose for others. This is especially helpful when you get an email from a CEO expressing interest in an award that is due that same week!
Intake 5000
Whether with a proper messaging session or hours spent reviewing and researching company materials, knowing your client's messaging will ensure consistently accurate award submissions. This is especially important when dealing with company information like revenue numbers, growth percentages or other company metrics. There's nothing worse than an awards team representative reaching out to verify the information on your submission because it doesn't match their records. So, take the time to get all the correct details.
'CNB See' That You're Collaborating With Your Client
Clients are busy. Sometimes they only have time to send feedback in the form of Google doc comments.
But award submissions are often extremely detailed, and you'll need to find time to collaborate with your client for your submissions to be successful. Plan to be on the phone regularly throughout awards season, talking through submission details, deadlines and actions needed. Additionally, hearing first-hand how an executive talks about their company will give you good insights, metrics and colorful anecdotes that you otherwise wouldn't know about.
Reviewing Your Work '30 Under 30' Times
This step is very important, especially for those lengthy submissions. Make sure everything you submit has had a thorough copy edit. Sloppy sentences and grammar and other inconsistencies can eliminate a company's submission from consideration.
The award submission process can be tedious, and sometimes you spend hours on one question. By the time you're done, the answers start looking and sounding the same. So, re-read and review and have someone else look them over with a fresh set of eyes before you submit.
Deloitte Forget Organization!
Keeping track of deadlines is obviously an important part of the award submission process.
First of all, make sure you keep a log of all awards you have applied for, will apply for, did or didn't win, and/or passed on for the year. I find that a simple Excel grid is sufficient, and I keep mine updated with important notes so that when the client asks (and they will) if they should pursue an award, I can remember why we did or did not pursue it last year.
It's also important to set calendar reminders for all important dates so that you can alert your client whenever an important announcement will happen. Bonus: this will also make you look great and on top of things.
Lastly, keep a folder of all submission documents, images, case studies and other materials, so you don't waste time sifting through emails to find them next year. You'll thank me for this tip when you are minutes away from a deadline and need to find a client's logo.
Sometimes you can't avoid having four submissions due and running around with your hair on fire to get them all submitted on a Friday night. But these tips will make awards season easier and will set you up for success.