August marks the back-to-school season, which comes with such traditions as shopping for new backpacks, school clothes and school supplies; riding the bus; and joining fellow students at school football games.
But new forces could make this among the most uncertain and non-traditional school years in recent memory. It's hard to compete on that front with the school years that took place amid the COVID-19 pandemic, when nearly 93% of U.S. households with school-age children reported engaging in some form of distance learning, according to the U.S. Census Bureau. However, artificial intelligence, inflation and a shortage of qualified teachers loom large this school year.
Artificial intelligence is clearly changing the game in education. But what that looks like can be significantly different between states, cities, schools, and higher-level vs. K-12 education. In Florida, high school students in nine countries are taking AI classes developed by the University of Florida. The University of Texas at Austin in spring will launch its online masters AI Program, and professors in UT's architecture and business schools are bringing AI into their lesson plans. Yet for all its potential benefits, AI creates risk and fear. That has prompted "school districts across the county to ban the use of AI to preserve the development of critical thinking."
Meanwhile, states across the nation continue to face unfilled teacher positions. This is leading to increased class sizes, the use of long-term substitute teachers, hiring of teachers who lack the certifications traditionally required and a move to bring in teachers from other countries.
And the picture for back-to-school spending is cloudy amid inflation. A Reuters story notes a new Deloitte report indicating back-to-school spending will "fall for the first time in nine years as shopping across all income levels pull back on non-essential purchases and prioritize necessities." And we've been hearing a lot lately about how consumers are trading down or just plain hunkering down in terms of their spending. However, a recent National Retail Federation and Prosper Insights & Analytics study suggests that this year's back-to-school spending for both K-12 and college consumer groups will be the highest that we have seen in two decades.
Marketers and PR pros are generally tasked with positioning their products or services as a solution to a problem. But today's problems for K-12 students, college students, educators and institutions are significantly different than they used to be, and the landscape is far more complex. That can make it tougher than ever to create and execute successful school marketing campaigns, school promotions and back-to-school influencer marketing campaigns – with the every-growing changes in and related to the education arena. But here are communication best practices to ensure your back-to-school campaign will secure your spot as valedictorian.
Know your audience and craft your message and marketing strategy accordingly
Teachers, parents and students all have ample problems coming into the back-to-school season. But their pain points are drastically different. Parents are likely cross checking their school supplies list with back-to-school sales, while teachers aim to do back-to-school shopping for their own classrooms while getting a jumpstart on their lesson planning for the school year.
High school and college students may not be thinking beyond their end of summer plans just yet, but soon they'll be looking for the best online tutoring services and math homework help. Students and new teachers looking to invest in new devices to enable them to leverage AI tools and support their other work may also be seeking school promotions on consumer electronics. Laptops for college students – who Wirecutter reports care most about price-to-performance ratio as well as battery life, size and weight, keyboard and trackpad – is an especially hot area.
Chances are your offerings can be the solution to multiple audiences, but streamlining your marketing strategy for the appropriate audience is key to making an impact. Prepping parenting and education spokespeople, and social media influencers to reach college students and others, to discuss the merits of your products or services is the ideal first step to ensure that messaging about your school supplies and school discounts will resonate with your target audience.
Keep in mind: timing is pivotal with school promotions, products or services
If you're a B2C company with a physical product, Prime Day is truly considered the start of the back-to-school season. When the goal is to land on school supplies list roundups, work to grab a coveted "best laptop for school" title, or have KPIs centered on sales or click through rates – the start of July is your moment to shine. Consider a program around SEO backlinking, which uses link building strategies to help drive relevance, secure placements and drive traffic.
If you're a B2B company with an edtech product, chances are you offer a solution to a problem that arises once the school year kicks off. August is seen as back-to-school season, though PR plans should be well underway by mid-July.
At this point, you should have a core strategy in place. This would include:
A press release announcing your product alongside something to make it new and timely
Experts with an array of points of view who have experience with your product and can provide their opinions on why it's great for students, teachers and/or the classroom
Data is gold for media and creates a why now moment if your company doesn't have something new to share. Whether through your internal network or, more ideally, an objective third-party provider, look to uncover interesting insights that are unique and timely for the media, while connecting to the bigger picture and your product.
Also make sure you have a dedicated comms team in place to source newsjacking opportunities (many begin to arise at this time of year). These PR professionals can keep a pulse on the education landscape to spot any trends or challenges you can lean into.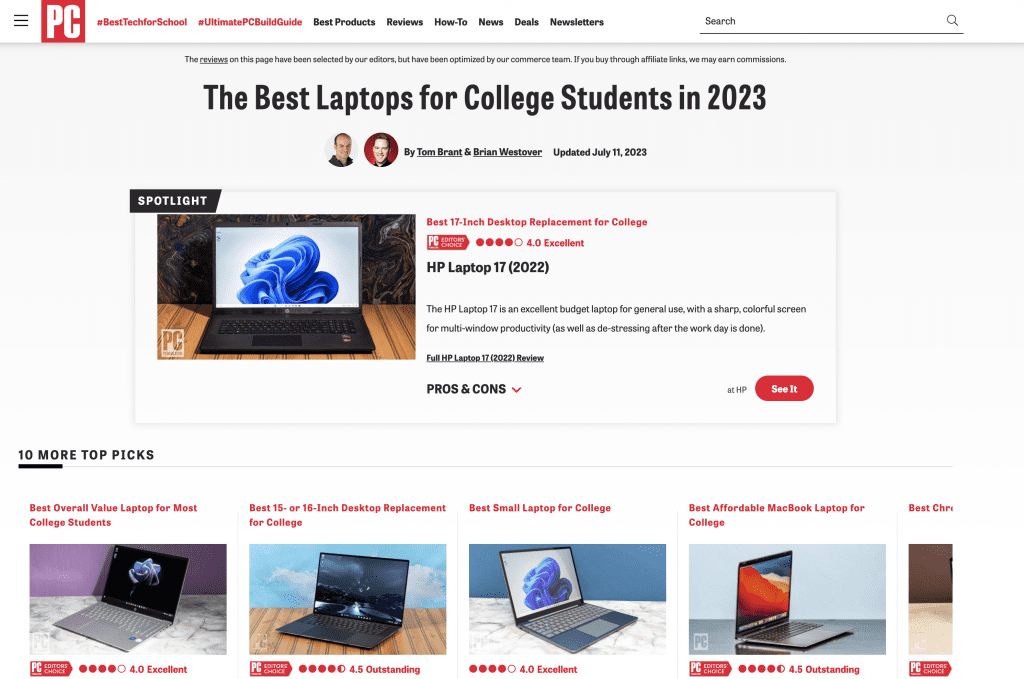 Make sure influencer marketing campaigns are in your back-to-school toolkit
This time of year, broadcast stations and morning shows are champing at the bit to bring on parenting experts who are ready to discuss back-to-school challenges, share tips on how parents and students can save money on back-to-school shopping, and dish on the hottest back-to-school tech that can help students secure top marks.
On the social media front, parent influencers are taking to TikTok and Instagram to share their greatest tips to their thousands of followers. Influencer marketing has been used by social media and PR teams to raise awareness, build a loyal customer base, and communicate key product or company messages in an organic way. But finding the influencer that aligns with your company's mission is not an easy feat, and partnership conversations and contracts tend to take months to hash out. If you have your heart set on working with an influencer, back-to-school season is not the time to get started, at least not for an influencer engagement that will begin this back-to-school season. But do start prepping your research for next year. Influencer outreach should happen in Q1 and Q2 to execute and maximize these types of partnerships.
TLDR: similar to our school days, back-to-school campaigns have the greatest success when PR pros do their research, plan ahead, and think through every angle.
If you're tardy on this year's back-to-school season, don't just stand in the corner. Instead, insert your company or product into the news by tapping into current education conversations. Share non-promotional quotes with media expressing your thought leadership on topics such as what the school year will hold, what to look for in school supplies, how to get the best school discounts and whatever other narratives can ultimately loop back to your value proposition.
And don't wait until next school year's test to start preparing for the 2024-2025 back-to-school season. Like the college students, parents, educators and administrators you may be selling to, you want to understand the landscape and make sure you have the tools and team to help you succeed and move forward. To be a top-ranked student of marketing and public relations, you will want to set a plan to connect with your communication team well before the school year ends. That way, you will be sure to be ready when the next back-to-school season rolls around.
As they say: the early bird gets the worm!
Want to dig in more on what's possible with a winning PR strategy? We invite you to connect one-on-one with Bospar to learn about our services and understand how your organization can:
Create and secure placement for engaging content that moves the needle
Engage with and benefit from social media influencers and micro influencers
Jump on newsjacking opportunities to put your thought leadership front and center
Leverage PR to make the most of key shopping seasons such as back-to-school time
Stage surveys to create unique data that garners media coverage any time of year