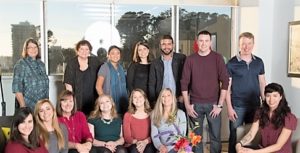 There is an unintended consequence to a great public relations placement. It reveals what people truly think of you.
That knowledge can make you do surprising things.
I discovered this when Business Insider named me to their list of The 50 Best Public Relations People In The Tech Industry In 2014.
I first learned about my ranking from my clients. After several rounds of congratulations, my team members were next, followed by plenty of ribbing from my journalist friends: "the bar was that low, huh" or "you were only number 27. That means there are 26 people better than you – probably better looking, too."
But after the initial euphoria wore off, I noticed a particular silence in my international PR agency. No one from senior management congratulated me. I decided I needed to leave.
From a cultural point of view, leaving made sense. I started my PR career at a small firm, Connecting Point Communications. There I had direct access to its founder, Chris Boehlke, and could enjoy her mentorship, control which clients I would work for, and be assured that my voice would count. I was judged by the work I did in a small, almost classroom environment that nurtured great ideas and talent.
The question was: where to go?
After interviewing with several agencies, I realized most of them were depressingly the same. They offered high-minded talk about how they were different and presented a fantastic foyer meant to inspire thoughts of greatness. But behind the foyer they revealed an open office that resembled most third-world call centers. The bathrooms were nearly third-world, too.
I was chewing on these thoughts during my last interview, which I interrupted, declaring, "You know what – after hearing this, I think I should simply start my own agency."
It was actually Chris Boehlke's idea. We talked about it over drinks with our third principal, Tom Carpenter. We had confidence in our PR acumen, and we knew a lot of prospects from years of making friends among our Silicon Valley clients and the "recommenders" they trust.
When we talked about where to locate the office, the conversation quickly turned to negative elements like commute times, open spaces and cubes, limited availability of good people in the Bay Area, and spiraling costs of real estate in the sought-after parts of town.
We assumed we'd be very liberal about how much we'd let people work remotely – it was 2015, after all – and the trend was accelerating rapidly. It was especially attractive to one of the most under-utilized assets in the PR profession: mothers with small children.
That's when we decided to be bold and start with a virtual model. We felt it was even more powerful than liberal work-remotely policies because everyone is actually together constantly in a digital virtual environment. They are never "remote."
So, we opened a virtual agency with no physical offices, just people connected by phones and internet. Staff members wouldn't have to endure open offices, and we wouldn't be hamstrung with an untenable long-term lease. Even more importantly, we would be able to select the best people, no matter their location or family situation. Being virtual would not be tantamount to being cheap: we would invest more in travel than we would spend in rent. By adopting this model, we would have the footprint of a large agency, with the focus of a boutique.
Now, five years later, we are still pinching ourselves about how well things have worked out. PRWeek named us their outstanding boutique agency two years in a row and nominated us again for best small agency this year. The Bulldog Reporter awarded us 17 times. Our staff retention is probably the highest in the industry, which has secured us a best place to work award.
The people I work with are some of the smartest and hardest-working in the industry, and, somehow, they manage to put up with me. That's all due to the unintended consequence of a great public relations placement. It reveals what people truly think of you. That knowledge can make you do surprising things.