I will remember yesterday's invasion of the Capitol through a uniquely PR lens.
I was onboarding a new client – a British client – and couldn't help but feel personally embarrassed as the Capitol of their former colony descended into chaos. It felt as if our national adulthood was being called into question, especially when I saw one invader with a raised fist under the slogan "E Pluribus Unum," Latin for "Out of many, one" – certainly the antithesis of the very image I was watching unfold.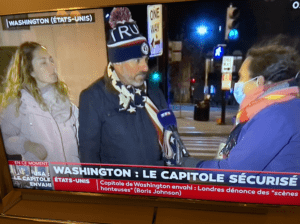 French television was charitable. This was not an American phenomenon, the presenters concluded. They pointed to the Yellow Vest movement that led to violent protests over social inequality. The belief was that those suffering were more likely to turn to "alternative facts" and ignore "fake news" that didn't support their world view.
For American companies, government and citizens, the days, weeks and months ahead present a new communications challenge.
Richard Edelman, the global CEO of Edelman, urged business leaders to reassure their employees. "Get out there and talk to your people. They are scared, nervous and unsettled. Look, we have a job to do. We have to do our work every day. And we also have a job as citizens, too."
Tom Carpenter, a Bospar principal, wrote to our staff: "We need to be mindful not to be tone-deaf. Take care of yourselves and do what you need to do to feel safe, and let us know if you need to take the rest of the day off to process or need any other accommodation, especially anyone located in or near D.C. or with family there."
This is part of a larger trend. As business and communication leaders, we need to determine what is tasteful, appropriate and helpful to clients, journalists and our country.
Twitter and Facebook are already taking the right action by denying Donald Trump a platform to spread hate and violence.
Our own research shows that an overwhelming share of Americans (89.9%) believe the Biden presidency will impact them – and communicators need to lean into that. More than one-fourth (26.2%) of the survey group said that they will think about Trump less. More than one- fifth of Americans said the news cycle will be more reliable (22.4%), their blood pressure will go down (22.3%), or they will think about politics less (20.3%).
But politics is not the No. 1 priority for Americans. Asked what they want to see in 2021, the top answer from 61.1% of Americans was a cure for COVID-19. Many Americans (47%) said they simply want to see a return to normalcy, while 46% want to see unemployment go down. A sizable share of Americans voiced a desire for racial equality (41.2%) and for America to fight global warming (31.8%).
Communicators of all stripes need to listen to Americans' concerns and sentiments. We need to take the critical next steps of committing ourselves to speaking the truth, ensuring that real news is heard, and to learning, discussing and spreading the word about what unites us. By doing that, we can make E Pluribus Unum a reality.