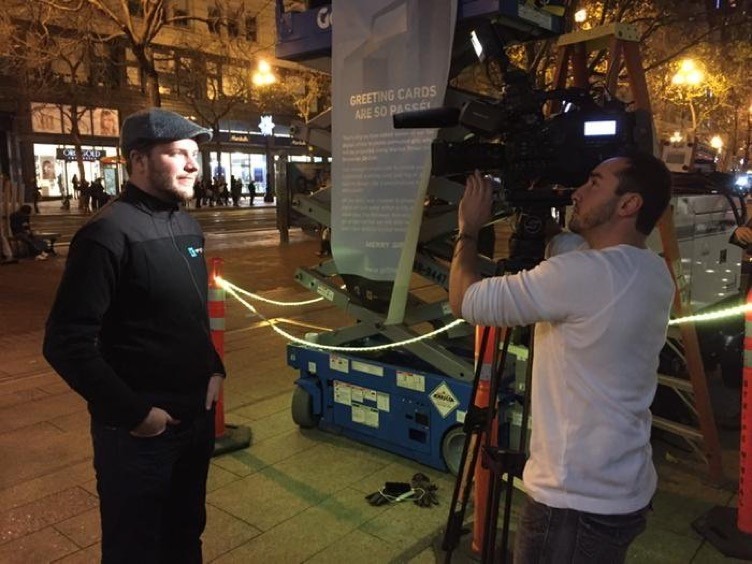 This article first appeared in PRNewser.
What should CMOs and marketing vice presidents expect when they get that long-awaited placement in the Wall Street Journal?
"For many marketers, the dream piece is a feature story explaining why they are better than the other guys, in which every bit of messaging comes out convincingly and in crystal-clear, plain English," said Jed Alpert, SVP of marketing for 1010data. "The questions that arise are: What does a placement mean for a company? How does it affect the business? Does PR still help these days?"
We now have some answers, thanks to a survey fielded among 500+ CMOs, vice presidents of marketing, marketing directors and marketing managers by Bospar, a boutique technology PR agency.
When CMOs and VPs of marketing have seen their company secure top-tier feature coverage, nearly all of them (94 percent) see an increase in brand awareness. That's followed by an increase in:
Brand value (69 percent)
Web traffic (69 percent)
In-bound sales leads (63 percent)
SEO improvement (50 percent)
What they don't overwhelmingly expect to see? An increase in sales. Only 38 percent of CMOs and marketing VPs expect that.
"It's easy to get caught up in the excitement when you first talk to the Wall Street Journal and think, 'Hey – this is our lucky break,' but PR doesn't quite work that way," said Joe Schwartz, VP of marketing for BigPanda. "The idea that your big news story is going to drive a business event all by itself is a myth."
In fact, only two percent of marketers believe a top-tier placement is strong enough to incite a desired business result. The rest believe that once a media placement is secured, the company should take action to support it, including:
Promoting the coverage in social media through relevant channels (85 percent)
Showcasing a placement on the company's website (84 percent)
Including the placement in a company newsletter (69 percent)
Sending the placement to prospects (64 percent)
"Share widely internally," recommended Emma Dunstone, VP of marketing for Showpad. "When you are immersed in the marketing and communications way of life it's easy to forget the buzz that other members of your internal organization can get from great PR coverage."
Most CMOs and VPs of marketing (57 percent) expect top-tier coverage to increase their web traffic anywhere between 10 to 49 percent. One in five marketing leaders expect a 50 percent spike in traffic, 13 percent expect traffic to triple, and five percent say top-tier placements do not increase traffic one iota.
"A good top-tier feature story, not just a mention, helps drive air cover for a given campaign and lends credibility to your program," said Andrew North, VP of corporate branding and communications at Bazaarvoice. "It increases awareness, builds your brand, and gives your sales force objective news about your company they can share with clients and potential clients."
An overwhelming majority of marketers (85 percent) believe a top-tier online feature story is the best way to drive web traffic. A close second was an industry trade feature story (70 percent), followed by:
Social media mentions (56 percent)
Several non-top-tier placements (54 percent)
A top-tier mention (48 percent)
A top-tier broadcast feature story (48 percent), and
A top-tier print feature story (46 percent)
Paid advertorials came in last. Only a quarter of marketers (26 percent) thought paid advertorial in industry media helped drive traffic, and 23 percent thought paid advertorials in top-tier media helped power clicks.
"Earned media in either category – tier-one business media or tier-one technology media – is of tremendous value and interest to all key stakeholders and is prized above paid media of all types," said Dan Berkowitz, former head of corporate communications at AppDynamics. "Bottom line: marketers typically expect a feature story to generate an increased number of qualified leads."
However, Douglas Karr, CEO of DK New Media and founder of the Marketing Technology Blog, had a different perspective. "It's simply not enough to produce content anymore if you wish to build authority and gain trust with prospects. We continue to find that smaller, niche publications are providing the highest engagement over broad, large audiences. It makes sense, as consumers and businesses are researching their purchase decisions and focused on second-tier outlets and influence that have narrow focus and higher influence than first-tier outlets."
But whether or not the outlet is big or small, the ultimate goal is a company feature story.
"A big story that prominently features my company is a primary validation vehicle," said David Hurwitz, VP of marketing for MosaixSoft. "It does more than simply build brand awareness; it builds brand value by placing us within a larger trend that is worthy of high-profile attention."