Healthline's mission is to empower people to be their strongest and healthiest selves by being a trusted ally in their pursuit of health and well-being. Educating the public about physical and mental health with personal perspectives and straightforward information has always been valuable. But it is more important than ever now in light of the COVID-19 crisis.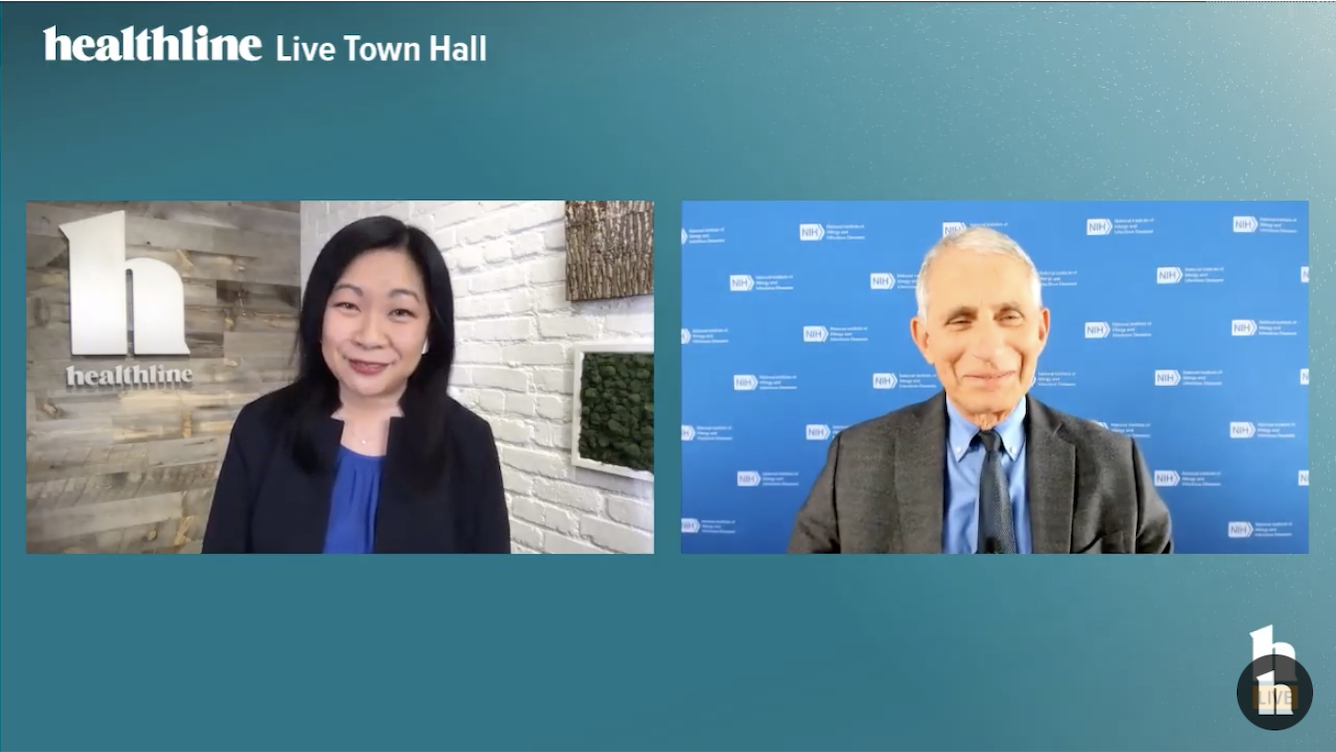 Dr. Anthony Fauci is the pre-eminent voice in the U.S. for trusted information about the novel coronavirus. An expert in the fight against infectious diseases, Fauci is the director of the National Institute of Allergy and Infectious Diseases and the chief of the Laboratory of Immunoregulation. He has advised six presidents on global health issues and is the recipient of numerous awards, including the Presidential Medal of Freedom and the National Medal of Science.
In recent months as the country – and the world – have grappled to understand this virus, identify strategies to combat its spread, and forge a path forward, Dr. Fauci has helped provide answers. At the same time, Healthline has been delivering live updates on COVID-19, prevention tips, symptoms and testing information, and other resources to protect people.
Yet more than six months into this public health crisis, there was still conflicting information regarding masks, and new developments and debate about vaccines. And amid the back-to-school season, government leaders, families and educators had more questions than answers about how best to educate children, while keeping students and teachers safe from the virus.
Objective
To address these challenges – and elevate the commitment of Healthline as the go-to resource for credible, medically vetted news and analysis on coronavirus angles – Bospar sprang into action to help the company organize a live town hall about coronavirus.
This online event would: address concerns about going back to school, including its impact on children's mental health; provide effective measures for preventing the spread of COVID-19; discuss advancements and quantity of coronavirus testing; and share and explain the latest research and developments in coronavirus patient treatment as well as prevention via vaccines.
The goal was to generate consumer and health trade media coverage by promoting a notable panel of experts having a discussion about COVID-19. Healthline Media's Chief Medical Officer Dr. Elaine Hanh Le would moderate. Healthline advisors Dr. Timothy Legg, a mental health specialist, and Dr. Raj Dasgupta, a front-line physician, would present and ask additional questions. Steve Swasey, vice president of communications at Healthline Media, would host. To take the discussion – and the potential for high-profile media coverage of this event – to the next level, the team invited and included the top COVID-19 expert: Dr. Fauci.
Solution
Bospar worked with Healthline to develop topics of discussion for the Healthline Live Town Hall Featuring Dr. Anthony Fauci. We sent out a save-the-date media advisory and created and distributed a news release announcing the town hall, helped to build an event landing page, promoted the event across Healthline Media and Red Ventures properties, and socialized it across all channels – creating the hashtag #AskDrFauci so people could provide questions.
We knew Healthline would need a reliable, scalable online platform on which to host the town hall, so we identified and engaged with BrightTALK. This company provides white-glove service and the ability to support far more endpoints than platforms such as Zoom, which isn't built for more than a couple thousand participants. We also understood that BrightTALK had a network of 250,000 to 1 million subscribers that we could – and did – invite to the Healthline town hall.
During the event, we monitored and shared the latest news to incorporate it into the live discussion. We also live tweeted and quickly captured video clips and distributed them to the media.
In our work following the town hall, Bospar provided reporters with the event recording and transcript with key portions highlighted. We explained what happened in pitches to broadcast, consumer, health and local media outlets. Working with Healthline and one of its service providers, we drafted thought leadership articles for publication. We also recommended and supported Healthline's effort to create a LinkedIn blog about the importance of the event and its key takeaways, and a series of day-of and ongoing Healthline.com articles about the event.
Results
At last count, our media outreach efforts generated 146 pieces of coverage, including placements with such top-tier outlets as Bloomberg Law, Business Insider, CNN, Forbes, Fox News, The New York Times, Newsweek, Reuters, U.S. News & World Report, and Yahoo News!
Our promotional efforts around the Healthline town hall with Dr. Fauci, which is now available on demand, also attracted more than 8.25 billion unique visitors per month (UMVs). Additionally, this important event produced 15 linkbacks and three dofollow links.
"The public is thirsty for current, accurate information about COVID-19 from experts in the healthcare field, so this event could not have been more relevant," said Swasey of Healthline Media. "We are grateful to Dr. Fauci for contributing his expertise to this Healthline town hall, and we greatly value the work Bospar did to plan for and execute this successful event and bring the important takeaways from it to our target media – and to people across the world."