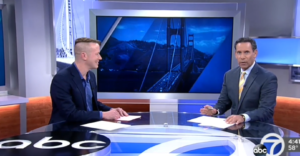 If only it were that simple. We strive to always treat others with the dignity and respect they deserve, so why shouldn't that apply to one of the most diverse, complex and culture-rich cities, San Francisco? We at Bospar wanted to know, so for the second consecutive year, we conducted a San Francisco Naming Day Survey, focusing this time on respondents in other English-speaking countries.
The 2019 survey was commissioned by Bospar and was conducted online by Propeller Insights. More than 1,500 residents of Canada, Australia, New Zealand and the U.K. were surveyed.
Since changing and improving perceptions is what we do best, we took a page out of our own playbook to make the news timely and relevant. This is why the survey coincides with San Francisco celebrating its 172nd naming anniversary. Here's are some key learnings from the survey:
The good, the bad and the ugly.
We found that 71 percent of those surveyed call San Francisco by its proper name. Unfortunately, that means that 29 percent don't. Instead, they use "San Fran" or "The Golden Gate City" and a handful of less popular names. In fact, 30 percent of Canadians and 27 percent of Australians and New Zealanders use the highly despised nickname of "San Fran." Respondents from the U.K. are most likely to call San Francisco by its proper name. Thank you.
Now for the bad part–24 percent of respondents don't care. They said they would keep calling San Francisco "San Fran" or "Frisco" even if they know how much it bugs locals. And 25 percent of respondents said they would insist on calling California "Cali" if it annoyed Californians. Again, we at Bospar had to know why. So we asked. And half of the respondents said because it is shorter. Really? Three syllables creates a pain point? That's like texting TY instead of typing out the full "thank you." By contrast, New Zealanders refer to themselves as "Kiwis" and for good reason. The kiwi has a special significance for the indigenous Māori people. I dare you to find a local San Francisco resident referring to themselves as a Friscan.
Hollywood, we need your help.
Of those surveyed, a whopping 84 percent said they heard "San Fran" or "Frisco" used in movies, TV, sports and music. Adventure, Escape from Alcatraz, Fog Over Frisco, Basic Instinct, The Frisco Kid, The Magnificent Seven, and White Fang are just a few examples. And let's not forget Otis Redding's Dock of the Bay.
One problem, many solutions.
So, under the guise of not presenting a problem without a solution, here are two things collectively we can do.
If you read a travel brochure or other literature that uses San Fran or Frisco, send a nice note or comment that politely asks for updated content that reflects the full and proper name.
We at Bospar will do our part by repeating the survey, issuing and distributing the news, creating content, and presenting you with the facts. We will let you know how the perception has improved and about any other progress we can report. It's what we do best.
In closing, thank you to the estimated 26 million people who visited San Francisco in 2018. We hope you enjoyed the many landmarks and events we have to offer, including the Golden Gate Bridge, cable cars, Coit Tower, San Francisco Bay, Alcatraz, sporting events, shopping, and theater. All we ask in return is that you let your friends and family know you had a great time in San Francisco.