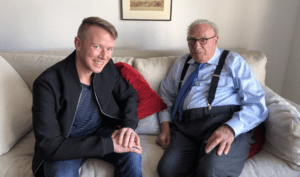 Dear Neil Patrick Harris,
I hope you enjoyed your visit to San Francisco on the 27th. I learned about it when I was searching for people who used "San Fran" in their Twitter feed. I wasn't surprised by a lot of the people I found in the month of January: mostly tourists and conservatives, like Sean Hannity and Chuck Woolery.
It's no surprise tourists like "San Fran." It's cute and short and implies a sense of intimacy with our city – unless you talk to the people who actually live here. In 2018 my PR agency Bospar published their findings with Propeller Insights about the nicknames that are and are not acceptable to people who live in the San Francisco Bay Area.
"San Fran" is not one of them.
Nor is "Frisco."
Quite simply, it drives the locals nuts.
"It is vitally important to call the city 'San Francisco' over 'San Fran,'" said Charles Fracchia, co-founder of Rolling Stone magazine and president emeritus of the SF Museum & Historical Society, a non-profit organization dedicated to the preservation, interpretation and presentation of the history of San Francisco. "Utilizing the full name of any person or place gives it dignity, and I believe 'San Francisco' deserves to be referred to by its full name."
We did further research this year into why tourists call San Francisco "San Fran" and discovered that most of them got it from popular culture. Other people simply liked that it was shorter.
But in both years of this study we discovered something troubling: there is a group of people that no matter what will insist on using "San Fran" even if it bothers the locals. In our international study, we discovered that Australians and New Zealanders were most likely to troll us with "San Fran" while the British were the least likely to do so. In the United States, the people most likely to say "San Fran" are conservatives, who view "San Fran" as a fun epithet because they know it annoys the liberals who call the Bay Area home. It's no surprise that Sean Hannity and Chuck Woolery both use "San Fran."
Which brings me back to your visit.
On January 24 you promoted your upcoming event at SF Sketchfest, tweeting, "Looking forward to it, San Fran."
I don't know if you noticed, but your fans were not impressed. @NorCalGal56 wrote: "No. No. Please NO, NPH! It's never 'San Fran.' Only 'San Francisco' or, if you're a local, 'The City.' Please. Thank you so very much. (Loved when you've hosted the Tony Awards!)."
@DMac added: "You know it's 'the city.' 'San Fran' is a tourist trap."
@0xEugene even sent you a warning: "Expect to get booed if you call it 'San Fran' here."
I even self-servingly inserted our research into that thread, hoping you would see it – and even quote me!
Why is this so important to us?
It's a good question.
In fact, when I shared my appearance last week on the local ABC affiliate about our research on "San Fran," a friend of mine posted a note on LinkedIn, saying in effect: "So what? There are more important things going on. There's a government shutdown. Nearly a million people are without a paycheck. Trump is still president."
And I responded: you're right.
But then I added that this very issue highlights the central issue of our time during this administration. Using a person's or place's accepted name is a vital part of their dignity, communicating your level of respect. While it may seem trivial, doing the exact opposite follows in the footsteps of President Trump, who belittles his enemies with names like "Pocahontas" or "Crooked Hillary." I would argue that calling people by their preferred name is not just the fundamental challenge of public relations but also the challenge of our time. Nothing more than civility is at stake.
The friend deleted his note.
So why I am singling you out? Why don't I address others who use "San Fran," like Kanye West or his wife, Kim Kardashian West? Or even Travel + Leisure, which as a purported expert in tourism should be able to tell its readers that "San Fran" is not acceptable?
Quite simply, because I believe we have a lot in common. You're ostensibly a sensitive liberal. After our own personal struggles, we both came out, got married, and started living our lives – thanks in part to the actions of the liberals who call San Francisco home. Once I moved to San Francisco, I learned that the right name to call it was "San Francisco," followed by "SF" or "The City."
I'm hoping that can be you, too.
Thank you for your consideration,
Curtis Sparrer
Principal, Bospar PR