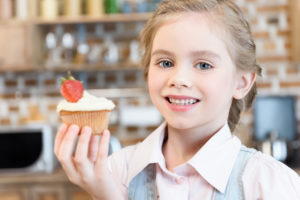 I think of Women's History Month as being not so much about the past but about the future. But the only way to a woman's future is through her past.
My past has certainly influenced my current and future self. Oddly, the good has sometimes held me back, and the bad has sometimes propelled me forward.
When I was 12, I learned to bake cakes, which is what girls did. But then I started a neighborhood cake baking service and learned the thrill of having my own company – and making my own money.
I was the oldest of three daughters of a former all-star high school basketball player. All the coaches would say to me, "Your father didn't have any sons? What a shame." Today I could be a female Steph Curry. Back then there were no women's high school basketball teams. I could only be a cheerleader, which I was. But cheerleading has become one of my greatest business and personal strengths.
In high school I was a straight-A student who excelled at typing because I was told it would come in handy. Actually, it did – and does – but not for the reasons they meant!
I was encouraged to go to a local teaching college because "teaching was a skill I could always fall back on after I got married," and, since our family had little money, a state college was considered the right choice. But luckily my As, my high SAT scores and some lucky community alumni connections landed me full work/scholarship support as one of the first women at an Ivy League college.
The scholarly part was great, but the work was even greater. In my sophomore year, I ran the student linen and laundry agency for our dorm of 600 women. I lost 5,000 sheets that year. But that was the best performance of anyone ever! So, I was promoted in my junior year to running the campus work/study program itself, which was like getting an MBA.
I majored in education, so I'd have that teaching to fall back on no matter what. But I also did additional majors in creative writing and religious thought. I've used the former all my life to make money and the latter to explore the more important kinds of worth. And a teaching degree has been invaluable for helping hundreds of rising PR stars up the ranks of my various companies.
Like most women of my generation, I married shortly out of college. Unlike most of them – I'm still married to the same man. We bought a major market underground newspaper for $5,000 – our wedding money – and spent an exciting several years building it into something a bit more mainstream.
When we moved to Chicago, I ended up at a major PR firm and worked my way up the ranks. One time I was told if I planned to have children, I should let them know before they put me in charge of too many more people. A few years later when I did a major West Coast turnaround and was told by the NY CFO that it was still "small potatoes in the scheme of things," I struck out on my own.
And the rest is – as they say – A Woman's History.
A huge toast to all of us women. We've come so far – often bloodied but never bowed.  We're the ultimate example of my favorite quote – "Only when you learn how to see the invisible, can you do the impossible." 
And that summarizes Women's History Month. Our past. Our present. Our future. The good and the bad. It's what makes us what we are and what we will be.