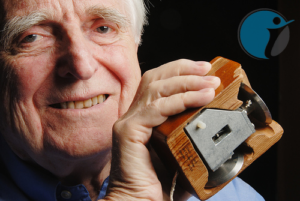 Today, the computer mouse turns 50. Like other major technical inventions, it too will suffer the cruel effects of time and eventually fade into oblivion. In fact, while it continues to blossom in more forms, sizes, colors and capabilities than ever before, it's already in its decline, chased by laptop and smartphone track pads and touchscreens. It's only a matter of time before it joins gee-whiz colleagues like desktops, VCRs and flip phones on the technology hall of fame shelf.
While the future of the mouse may be dim, its past is the blazing stuff of dreams – one of the great technology tales. Its inventor, Doug Engelbart, was one of the all-time scientists of our age. He shook the technology world 50 years ago today when he did his famous demonstration in San Francisco's Civic Center Auditorium. Doug also is credited with inventing the graphical user interface (GUI). And no interface was as mind-boggling as the ability to slide a device around on a table and cause the nearby computer to come to life and seemingly do things all on its own.
I worked closely with Doug Engelbart while helping those who led the ecosystem he created to celebrate the 30th anniversary of the mouse. The event was spearheaded by our client, Logitech, which housed Doug's Bootstrap Institute, Stanford University Libraries and The Institute for the Future. Rather than make it your routine birthday party, we set our bar at something worthier of Doug's contributions. The plan was a full day set aside for a symposium that would draw technology's best and brightest from around the country to come take part in a celebration of the past, combined with a look at the future.
We called it "The Unfinished Revolution." We dedicated the morning to a look at the last 30 years of computing technology. And the afternoon was spent looking ahead at the next 30. It was a day to remember. Speakers who came to honor Doug and share their vision included luminaries like Alan Kay, Jaron Lanier, Stewart Brand and Andy Van Dam. Media coverage was massive – from CBS News with Dan Rather to a multi-page spread in Business Week. The Bootstrap Institute still has full details on the event posted on its site. http://www.dougengelbart.org/content/view/223/#Press
It was an incredibly good-feeling day all around. But the greatest feeling of all was from Doug's reaction. He told us that it was, quite simply, one of the best days of his life. That's the kind of memory one treasures forever.
Doug's Bootstrap Institute continues on. He founded it to achieve the lofty mission of "boosting mankind's capability for coping with complex, urgent problems." And can't we all just use a whole lot more of that.
The 50th anniversary of the mouse is in some ways a farewell to it. Chances are that by the time its 60th anniversary rolls around, there will be a new generation who doesn't know what a mouse is any more than older ones no longer know what a carbon copy was. But the real celebration is around all the innovations that the mouse, and all of Doug's other inventions, have spawned.
The mouse will always live as a major breakthrough of our past and a vital link to our future. And never has Doug's goal of "boosting mankind's capability for coping with complex, urgent problems" been more needed than it is today.
Long live the mouse and all its tech offspring. Long live Doug's vision.