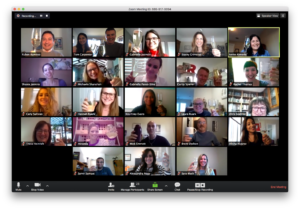 It's been five years since Bospar opened its virtual doors. We had a vision. And as the century turns 20, so far that vision has stacked up well with what a 2020 vision should look like.
In five years, we've grown to more than $5 million in annual billings and won a great many awards. Our 30+ people hail from more than 15 metro areas around the U.S., and our turnover has been close to zero. We treasure the strong and ever-expanding base of "serial clients" who keep coming back – and who have become friends and part of our life fabric along the way.
We're far from perfect, and our leadership team spends hours each week working on professional and agency self-improvement. But we've accomplished a lot.
Having helped manage two of the world's largest PR firms and then started three of my own over the years, I'm often asked what is the one thing that I believe makes Bospar so different. What is "the five and twenty" vision – and achievement – in a nutshell? And is it suitably compelling to drive us to another five years of standout performance?
I believe the one word that summarizes our achievement and our tactics for getting there is presence. We've learned how to "match minds" with clients and to walk – and deliver – in synch with them through the most demanding and complex of situations. We're single-mindedly dedicated to always creating true side-by-side relationships, across miles and time zones, and continually shifting priorities. Nothing less will do.
As the long-held PR wish goes, we've achieved a seat at the client tables.
Our virtual model is not about working remotely – rather, it's about being more present than was ever possible in a bricks-and-mortar framework. We can be anywhere. At any time. With clients. With the media. In their heads right when they want and need us there.
We've created a work/life balance for our staff even as we've created a life/work balance for our clients. Meaning we're all in this together – real time. And we always pull our own weight, coming to the party with facts, an action plan and a few push-the-envelope creative suggestions. These are disciplines that all top- quality PR firms employ, but the ability to deliver right when the client most needs it is a harder task to accomplish.
Some of the top tech companies now like to recruit out of high school and train internally, because they believe that universities can't keep up with the lightning speed of industry change. They are turning out graduates with built-in obsolescence.
And that same risk is there for the PR firms that serve them. To achieve the presence that makes a PR firm meaningful requires thinking at or above the speed of client challenges and change.
As we celebrate our fifth anniversary, we're even more excited about our 2020 vision than we were on the day we started the firm. Back then it was just a gleam in our eyes. Now it's a living vision that has proven it has the legs to take us to even greater presence, meaning and relevance in the years to come.
Over the next several weeks, others who've built this vision from the very early days of our firm will be sharing their own take on where we've come and where we're going.
As we kick off our fifth anniversary celebration, the real heroes of this story are our clients, media, friends, recommenders, influencers, and families who've enabled us to build Bospar into what it is today. You know who you are, and we thank you from the bottom of our 30+ hearts.