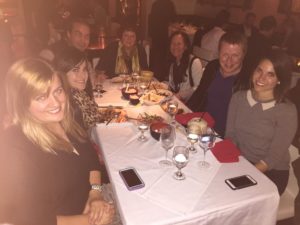 In 2015 I received a phone call that changed my life. The caller, Bospar co-founder Curtis Sparrer, explained that his new agency, created with fellow co-founder Chris Boehlke, was the first all-virtual tech PR agency, and they were inviting me to be part of it.
I was offered a promotion, a pay increase and the chance to work at home. But there was a complication: I had just found out that I was pregnant.
"Congrats!" said Curtis when I mentioned the baby. "That's fantastic news for your husband and you! Don't worry about a thing. We'll take care of you."
At the time, I was working for an international agency that would have offered me a generous maternity leave package. I had a manageable workload and clients I loved. But I wasn't happy.
Something about Bospar just felt right. I loved the passion that Curtis and Chris had for PR. I felt connected to the clients they were courting, and I was excited about the opportunity to be part of this agency from the beginning.
So, I took a leap of faith, left my job and joined Bospar in February 2015. I was the sixth person to join the team and am now the third longest full-time Bospartan after Chris and Curtis. That's a pretty cool accomplishment.
As my own personal Bospar-versary comes up, I've had time to reflect on the last five years and the impact that Bospar has had on both my career and my life.
The first few months were exciting and challenging. Since we were such a new agency, we didn't have many of the tools I was used to having. We were a small team, which meant that we were wearing all of the hats: management, media relations and account administration. The days were long, but we worked together to get the job done. We had a very "hands on" approach, and I think we all learned the fundamentals of PR all over again. This turned out to be a huge benefit for everyone.
We quickly began adding more staffers and new PR tools. Over the past five years, we've more than tripled our staff, our revenue and our clientele. We've implemented mentor programs to help our team members grow as PR professionals, and we've embraced the virtual model to the point that we all feel like a family.
On a more personal note, I've had two children over the past five years (including the first "Bospar baby"), bought two houses, held three titles at Bospar, worked with more than 50 different clients, drafted numerous client press releases, and honed my craft with some of the best in the biz. Most importantly, I've been part of an agency that I loved from the very beginning.
Bospar reinvented the agency model, and it worked. We've won awards for it. And what Curtis said during our very first conversation was true. Bospar has taken care of me—and everyone else at this agency—like family.
Five years ago, I made the best career decision I could've made: I decided to join Bospar. And I haven't looked back since.